Pianist Ikuyo Nakamichi Receives 2021 Commendation from Commissioner for Cultural Affairs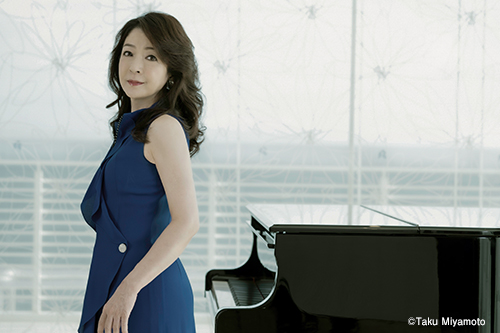 Pianist Ikuyo Nakamichi has received the 2021 Commendation from the Commissioner for Cultural Affairs.
This commendation is an honor conferred by the Commissioner for Cultural Affairs to those who have made outstanding achievements in cultural activities and contributed to the promotion of Japan's culture, as well as to those who have contributed to the transmission of Japanese culture overseas and to international cultural exchange.
Ikuyo Nakamichi has been active on the front lines of classical music in Japan and abroad for over 30 years since her debut, and has established herself as one of Japan's leading pianists.
Her activities include not only performing in concerts, but also releasing CDs, writing books, teaching younger people as an educator and leader in music dissemination programs, and engaging in outreach work.
Through the activities of the General Incorporated Foundation "Music Shaping our Future,"
which she founded and in which she serves as representative director, Nakamichi works with commitment in promoting the arts at elementary and junior high schools throughout Japan.
In particular, her continuous outreach work in Shichigahama-machi, Miyagi Prefecture, conducted in the framework of support for reconstruction of the areas affected by Great East Japan Earthquake, has attracted a great deal of attention.
Ikuyo Nakamichi will celebrate the 40 th anniversary of her debut in 2027. Looking towards that milestone, in 2018 she launched the 10-year recital series "The Road to 2027." In this series she is performing works of Beethoven, her lifelong pursuit, as well as a variety of other works for piano, in locations throughout Japan.
Please continue to follow Ikuyo Nakamichi's wideranging activities.
2021.12.1 JAPAN ARTS
---
◆⇒ "The Road To 2027″recital series
⇒ https://www.japanarts.co.jp/wp-content/uploads/2021/03/Theroadto2027series_pamphlet.pdf
◆⇒ for Ikuyo Nakamichi's artist page
⇒ https://www.japanarts.co.jp/en/artist/ikuyonakamichi/