Pianist, Mao Fujita wins Silver at the 16th Tchaikovsky Competition!
Congratulations to a young 20-year-old pianist from Japan, Mao Fujita, who won the Second Prize and the Silver Medal at the XVI Tchaikovsky International Competition 2019(Organization Committee co-chaired by Valery Gergiev) just last week.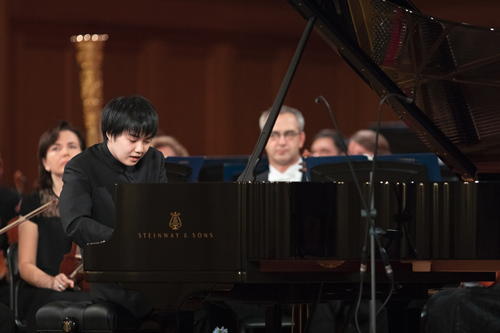 (C)Evgeny Evtykhov
With the State Academic Symphony Orchestra "Evgeny Svetlanov" conducted by Vasily Petrenko, Mao fascinated not just the jury but the audience with his dazzling performance of Tchaikovsky's Piano Concerto No. 1 and Rachmaninov's Piano Concerto No.3 at the final round on 27 June taking place at the Great Hall of the Moscow State Tchaikovsky Conservatory.
He also performed a variety of solo works in his first and second rounds, such as Bach, Mozart, Chopin, Rachmaninov, Liszt, Scriabin, Prokoviev and of course Tchaikovsky with an ovation at each round. Sonata K.330 by Mozart was the one capturing the hearts of many, which he again performed in the first Gala in Moscow after the Competition. He appeared to perform the 3rd movement of Tchaikovsky Piano Concerto No.1 with Valery Gergiev at the final Gala in St. Petersburg where a special recognition was made by Maestro Gergiev that Mao was "the surprising new discovery" of the pianists in the competition.
This year, the piano Section jury was chaired by Denis Matsuev, with others such as Barry Douglas, Michel B?roff, Nelson Freire, Pavel Gililov, Freddy Kempf, Ming Qiang Li, Vladimir Ovchinnikov, Piotr Paleczny, Boris Petrushansky, and Menahem Pressler.
"I was amazed at Mao Fujita: from his performance in the first round, where he played Mozart, I couldn't recover myself for a long time. Some joy came over me, I was very impressed and discussed his performance in the courtyard of the Moscow Conservatory (this is already a tradition – to discuss the competition with the public)…'
Denis Matsuev, RGRU, Russia
 
"His performance in the first round caused a flurry of enthusiasm and an ovation of the hall, and after the second round they confidently spoke about him as an unconditional favorite of the public …"
RGRU, Russia
'This is an absolute meta-hero for the Tchaikovsky Competition, such a performer is a bright, necessarily foreign, to whom the public somehow so favors. His name was Van Cliburn there, then his name was Frederick Kempf, in 2015 his name was Debarg, now his name is Mao Fujita'
Boris Lifanovsky, (Creator of the classicalmusicnews.ru), Russia
Watch the first round, semifinals, finals.
Information and schedule of Mao Fujita
⇒ https://www.japanarts.co.jp/artist/MaoFUJITA
– – – – – – – – – – – –
Ikuyo Nakamichi Piano Festival Vol.2
4:00p.m. Sunday, July 14
Tokyo Metropolitan Theatre Concert Hall
⇒ Learn More(Japanese)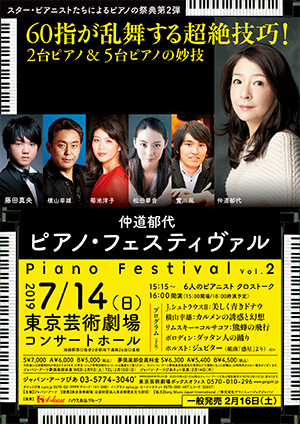 – – – – – – – – – – – –
Mao Fujita Piano Recital (sold out)
2:00p.m. Monday and holiday, October 14
Kioi Hall
⇒ Learn More(Japanese)