The new Mariinsky Ballet Japan Tour flyers are ready!
New flyers have been printed.
The front cover shows Alina Somova's beautiful Odette and Odile!
Her partner is Kimin Kim, the first-ever Asian principal dancer of the company.
Click here to see a PDF of the inside pages.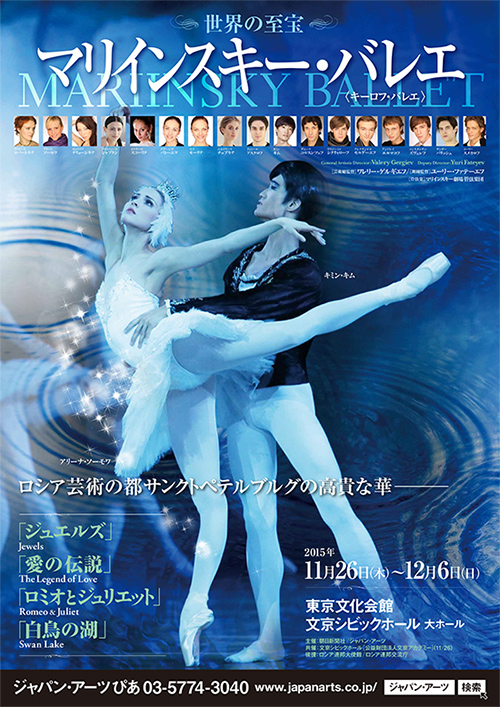 *The new casting as of May 20 is shown.
*Correction: There was an error in a name on the back of the flyer that is currently distributed.
Yuri Smekalov –> Danila Korsuntzev.
We apologize and will correct the error.
—————————————————-
The Mariinsky Ballet Japan Tour 2015
Japan Tour Special Site
Tchaikovsky: JEWELS
Nov. 26 (Thu.) 18:30 Bunkyo Civic Hall
Merikov: The Legend of Love
Nov. 27 (Fri.) 18:30 Tokyo Bunka Kaikan
Nov. 28 (Sat.) 13:00 Tokyo Bunka Kaikan
Prokofiev: Romeo and Juliet
Nov. 30 (Mon.) 18:30 Tokyo Bunka Kaikan
Dec. 1 (Tue.) 18:30 Tokyo Bunka Kaikan
Dec. 2 (Wed.) 13:00 Tokyo Bunka Kaikan
Tchaikovsky: Swan Lake
Dec. 4 (Fri.) 18:30 Tokyo Bunka Kaikan
Dec. 5 (Sat.) 12:30 Tokyo Bunka Kaikan
Dec. 5 (Sat.) 18:30 Tokyo Bunka Kaikan
Dec. 6 (Sun.) 13:00 Tokyo Bunka Kaikan