Echoes Of Life
Alice Sara Ott Piano Recital
With staging by visual image, approximately 70 minutes without intermission
Date

2023/11/30(Thu) 19:00
Opening / Ending

18:20 / 20:15
Venue
Artists
News
Ticket Information
Ticket Information
[Purchase tickets]
Tickets can be purchased either by phone or online.
Internet
Telephone
Japan Arts Pia Call Center: 0570-00-1212
(Open 10:00 a.m. – 4:00 p.m. daily, except in the New Year holiday period)
*To order from the call center, you must be able to provide a mailing address in Japan or pick up the tickets at a convenience store in Japan.
Please read the following link before purchasing tickets.
Ticket Availability
Available / × None
2023/11/30
With staging by visual image, approximately 70 minutes without intermission
General
SS

¥12,000
S

¥9,000
A

¥6,000
B

–
C

–
D

–
E

–
Student

–
All

–
You may have difficulty seeing the staging by visual image depending on the seat.
Program
Program
Chopin:24 Preludes Op. 28
+ 7 interludes
(Tristano / Ligeti / Rota / Takemitsu / Pärt etc.)
With staging by visual image, approximately 70 minutes without intermission
Visual image design: Hakan Demirel (architect)
Message
Message
Echoes Of Life
Echoes Of Life is a musical and visual journey that not only reflects on the thoughts and personal moments that continue to influence my life, but also portrays how I see my role as a classical musician today and how I want to expand my artistic horizon.
The dimensions and possibilities in which we can express ourselves artistically and connect with other art forms are things I have always been fascinated by. With this project I realize a long-held dream of mine to combine the worlds of music and architecture.
The collaboration with architect Hakan Demirel gives Echoes Of Life a physical dimension, a visual narrative. Hakan and his team of 19:4 architects have designed and created a digital world, inspired by an intense exchange of thoughts and ideas over the course of a year. The digital video installation that accompanies the entire length of the music is not a movie. There are no people in it, there is no action, no clear story line. The video shows architectural spaces that reflect the music. It evokes emotions and subtle references that hopefully will invite the audience to find their own stories, memories and echoes within those spaces.
Alice Sara Ott
Profile
Profile
Alice Sara Ott, Piano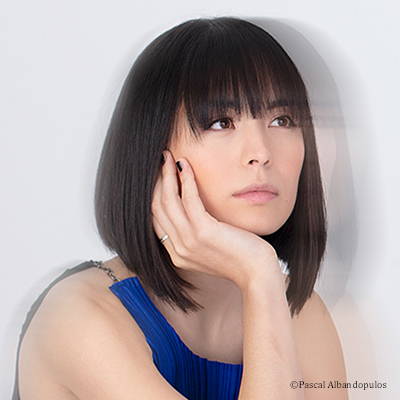 Hosts
Presenter

Japan Arts
Co-presenter

Public Interest Incorporated Foundation Sumida Ward Cultural Promotion Foundation (Sumida Triphony Hall Designated Manager)
Support

Embassy of the Federal Republic of Germany
In cooperation with

Universal Music