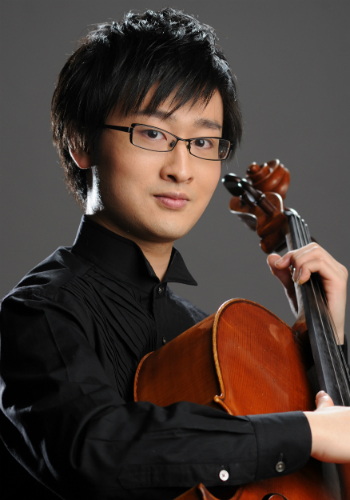 ©Shigeto Imura
Profile
Profile
HE WON SECOND PRIZE and Eugène Ysaÿe Prize – ELGIAN FEDERAL GOVERNMENT PRIZE,awarded by the Belgian Science Policy QUEEN ELISABETH INTERNATIONAL MUSIC COMPETITION of BELGIUM 2017
Born in Tokyo 1994. Yuya Okamoto received his first cello lessons at the age of six. In 2008 he won the Prize "Diploma of Merit" at the Gasper Cassado International Cello Competition in Hachioji (Tokyo). In 2011 he won first prize, Masuzawa-, Kuroyanagi-, Tokunaga-, Iwatani- (Audience-) prizes at the 80th Japan Music Competition.
He participated in Saito Kinen Chamber Music Study Group and Seiji Ozawa Ongaku-Juku.
From 2010 to 2013 he attended the Music High school attached to the Faculty of Music, Tokyo University of the Arts and studied under Prof. Nobuko Yamazaki. Since 2013 he studied at
Hochschule für Musik und Theater München under Prof. Wen-Sinn Yang and since 2017 he has been studying at Graduiertenschule(Graduate School) under Prof. Julian Steckel, Ana Chumachenco and
Hariolf Schlichtig. Also he took part in masterclasses and lessons of Prof. Wolfgang Boettcher, Prof. Miklos Perenyi, Prof. Gustav Rivinius, Prof. Natalia Gutman, Prof. Jens-Peter Maintz, Prof. Antonio Meneses, and Prof. Tsuyoshi Tsutsumi.
As a soloist, he has performed with the following orchestras:
Tokyo Philharmonic Orchestra, Tokyo Metropolitan Symphony Orchestra, New Japan Philharmonic,
Japan Philharmonic, Yomiuri Nippon Symphony Orchestra, Tokyo City Philharmonic Orchestra,
Sendai Philharmonic Orchestra, Kansai Philharmonic Orchestra, Ensemble of Tokyo,
Brussels Philharmonic Orchestra, Antwerp Symphony Orchestra, Wallonie Royal Chamber Orchestra and Bad Reichenhaller Philharmonie ,etc.
In the chamber music field, he has performed with pianists Michie Koyama and Kazune Shimizu, violinists Vadim Repin, and Arabella Miho Steinbacher, etc.
It is special mention that Brahms' Piano Quartetes with pianist Krystian Zimerman co-starred in Italy and Japan in the fall of 2019, with great success in both countries.
He received the 25th Shin-nittetsu Sumikin Music Prize in 2015, 16th Hideo Saito Memorial Fund Award in 2017, 28th Idemitsu Music Award in 2018 and 20th Hotel Okura Music Award in 2019
He is Ezoe Memorial Foundation 42nd scholarships and Rohm Music Foundation Scholarships year 2013/2014 and 2014/2015.
(June 2020)
Movies
Movies
第20回 江副記念財団コンサート 岡本侑也(Vc)