Quartet Amabile awarded the 22nd Hotel Okura Music Award!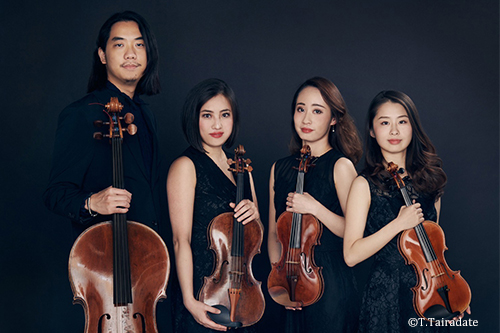 Quartet Amabile was awarded the 22nd Hotel Okura Music Award.
The Hotel Okura Music Award was founded as mecenat in 1996 to mark the hotel's 35th year in business aimed at supporting and developing musicians, who are promising and recently gave outstanding performance.
Quartet Amabile was formed of the violinists Yuna Shinohara and Chihiro Kitada, the violist Meguna Naka, and the cellist Tatsuki Sasanuma, who studied at Toho Gakuen College Music Department.
The quartet won third prize in the string quartet division of the 65th ARD International Music Competition Munich, and first prize in the New York Young Concert Artists International Audition. It is the most promising string quartet.
Don't miss their project focused on Brahms at Hakuju Hall, and the ambitious series of Beethoven's complete string quartets at Oji Hall which will last until 2026.
◆Quartet Amabile Profile
⇒ https://www.japanarts.co.jp/en/artist/quartetamabile/
◆Quartet Amabile Artist's Photos
⇒ https://www.japanarts.co.jp/en/artist/quartetamabile/?=photo