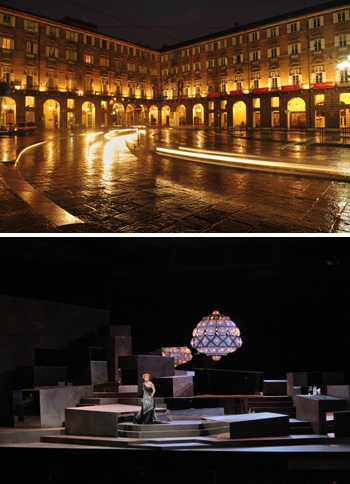 ©田中克佳
Profile
Profile
The Teatro Regio
in History and on Stage
Establised in 1740 as the theatre of the Savoy court, the activities of the Teatro Regio have never been interrupted, even duiring Napoleonic domination, was of independence and national unification, with the end of the 1800s seeing a period of great prestige in the presence of Arturo Toscanini and world premiers of two masterpieces of Giacomo Pucccini:Manon Lescaut and La Bohème.
In 1936, a fire destroyed the old Theatre. Rebuilt by Carlo Mollino, it was inaugurated in 1973 with / Vespri Siciliani directed by Maria Callas. The new Teatro Regio is characterised by an exclustive curvilinear design, and is equipped with one of the largest stages in Europe and advanced technology for the staging of particularly complex productions.
From the artistic point of view, the Teatreo Regio today combines the traditional opera repertoire with innovative opera theatre, making use of such prestigious names in direction as Luca Ronconi, Robert Carsen, Hugo de Ana, Jonathan Miller and Graham Vick, on occasion involving great names in cinema, like Ettore Scola, Ermanno Olmi, William Friedkin and Jean Reno.
In addition, there are regular guest appearances by the world's most important ballet companies, from the Royal Ballet of London to the Bolshoi Ballet of Moscow and the Kirov Ballet of
Mariinsky Theatre of St. Petersburg. The thrilling adventure of the XX Olympic Winter Games took place in 2006, with Turin in the spotlight of the mass media of the whole world: in the span of two weeks the Regio put on no less than four operas‐of which three new productions and two world premieres-for a total of 24 performances.
With a staff of 380 people and an annual budget of 45 million euros, the Regio constitutes the most important productive and organizational cultural centre of the region. The primary commitment of the Theatre is the Opera and Ballet Season, which is combined with a program of symphony concerts, the season of contemporary musical theatre of the Piccolo Regio Laboratorio and a full program of activities for the schools that involves more than 50,000 young people every year.
In recent years the production output of the Theatre has increased considerably in terms of both quantity and quality, ensuring the Regio its undisputed role in the foreground of the international artistic scene. This is demonstrated by the many co-productions with major European institutions and its record audiences of more than 225,000 paying members of the public each year and more than 13,000 season ticket holders, the largest figure of any Italian opera house.