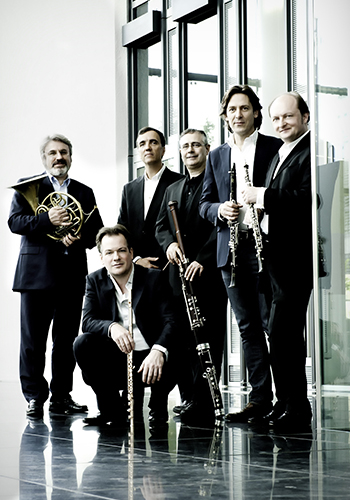 Profile
Profile
Emmanuel Pahud (Flute)
Francois Leleux (Oboe)
Paul Meyer (Clarinet)
Radovan Vlatkovic (Horn)
Gilbert Audin (Bassoon)
Eric Le Sage (Piano)
Les Vents Francais was formed by core member Paul Meyer and his longtime friends, all internationally renowned artists, as a wind ensemble that carries on and celebrates the French spirit. The ensemble focuses on presenting rarely performed masterpieces and creating the finest performances by the finest musicians. It emphasizes the French tradition of bringing out the very best in each player even in ensemble performances. The members and formations, ranging from small groups to large ensembles, vary according to the repertory.
A CD of the complete Poulenc chamber works produced by and featuring members of Les Vents Francais received high acclaim upon its release in the Poulenc Year 1999 and was awarded the 37th Ongaku no Tomo Record Academy Grand Prize. Les Vents Francais subsequently released CDs of trios and Saint-Saens' Le Carnaval des Animaux on RCA Red Seal. In 2012 their new recording of wind quintets, French Winds–Best Quintets, was released on EMI Japan and became the focus of much attention.
Les Vents Francais performed as an ensemble in Japan for the first time in March 2002. Their concert was aired on NHK TV, and their performance astonished audiences with a perfection far beyond anything they had imagined.