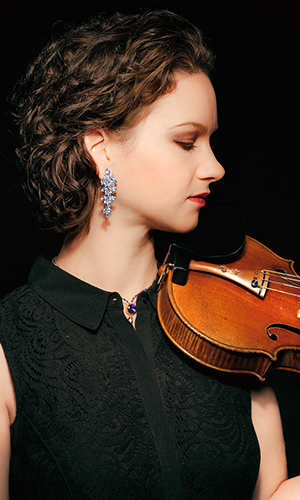 ©Michel Patrick O'Leary
Profile
Profile
Three-time Grammy Award-winning violinist Hilary Hahn is renowned for her clear and brilliant musicality, expansive interpretations of an incredibly varied repertoire, and organic connections with her audience. Her creative approach to music-making and her commitment to sharing her experiences with a global community have made her a fan favorite. She recently created the Instagram project #100DaysOfPractice for which she posted videos of herself practicing for a hundred days straight, openly sharing her behind-the-scenes work with her fans to break down perceived barriers around the creative process.
Hahn devotes much of the 2018-19 season to a thread that has bound her entire musical career together. In October she released Bach's Partita No. 1 and Sonatas 1 and 2, after the two decades of anticipation from fans and critics alike that followed her first album, Hilary Hahn plays Bach, released when she was only 17. Throughout the fall and spring, she performs solo Bach recitals in Vienna, Paris, New York, Washington D.C., San Francisco, Toronto, Tokyo, Seoul, Berlin, London, and Munich. Also in 2018-19, she is Artist-in-Residence at the Orchestre Philharmonique de Radio France, with whom she will perform Sibelius in Austria, Germany, France, and Spain and premiere the final violin concerto of Einojuhani Rautavaara, written for Hahn and completed posthumously by Kalevi Aho.
Bach has been a part of Hahn's life from the beginning of her musical studies, including with her first teacher, Klara Berkovich. At ten she was admitted to the Curtis Institute of Music in Philadelphia to study with Jascha Brodsky, a former pupil of Eugène Ysaÿe and Efrem Zimbalist, who dedicated part of nearly every lesson to solo Bach. She often incorporates movements of the partitas and sonatas into her free ? and sometimes surprise ? concerts for knitting circles, community dance workshops, yoga groups, art students, and parents with their babies. She developed these mini concerts as part of recent residencies in Vienna, Seattle, Lyon, and Philadelphia, and will continue to do so this year at Radio France, encouraging music lovers to combine live performance with their interests outside the concert hall and providing opportunities for parents to enjoy live music with their infants.
Hahn is known for her natural ability to connect with fans, from the art she collects from her fans and her YouTube interview series (youtube.com/hilaryhahnvideos), to her violin case's comments on life with a concert violinist on Twitter and Instagram (@violincase). Her curiosity extends far beyond music, and she was an early blogger, sending her fans "postcards from the road" on her website, hilaryhahn.com, and publishing articles in mainstream media.
(As of August 10, 2018)
Movies
Movies
Hilary Hahn - Paris (teaser)
Prokofiev: Violin Concerto No. 1 in D Major, Op. 19 - II. Scherzo: Vivacissimo
Hilary Hahn's "Mozart 5, Vieuxtemps 4 - Violin Concertos" official trailer
"In 27 Pieces: the Hilary Hahn Encores" Album trailer
YouTube channel