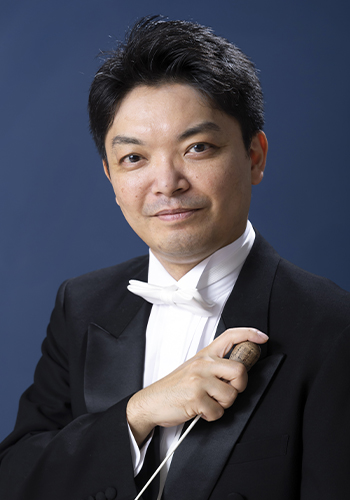 ©N_IKEGAMI
Profile
Profile
Daisuke Nagamine, born in Chiba Japan in 1977; after graduating Senzoku Gakuen College of Music, continued his musical studies at the University of Music Franz Liszt Weimar, and the Mecklenburg-Vorpommern State Theatre.
In 2008, he was invited as a guest conductor at the Festival Eleazar de Carvalho, Brazil, where he earned acclaim as conductor of a concert for the 100th anniversary of Japan-Brazil immigration. In 2011, he received the Mykola Sukach Award from Chernihiv Philharmonic Orchestra in Ukraine in recognition to giving productive master classes. From 2012 to 2015, he served as Assistant Conductor of the Kanagawa Philharmonic Orchestra conducting over 20 concerts a year including the Subscription Series of the Orchestra.
In 2014, he was selected as most outstanding conductor in the 5th ICW International Conductors Competition held in Atlanta, U.S.A. In the 2015/16 season he served as assistant to Paavo Jarvi, Chief Conductor of the NHK Symphony Orchestra. He conducted NHK Music Festival Symphonic Gamers (broadcasted on NHK BS) in the three consecutive years from 2016, and appeared on the podium of the 214th subscription concert of Kyoto Philharmonic Chamber Orchestra in 2018. Recently in 2020, he conducted a subscription concert of the Chernihiv Philharmonic Orchestra in Ukraine winning enthusiastic standing ovation. He is also noted for planning and conducting many concerts for children and various entertainments. Nagamine continues to appear as guest conductor with major Japanese and international orchestras, steadily expanding the range of his activities.
(June 2020)