Mojca Erdmann, Soprano & Xavier de Maistre, Harp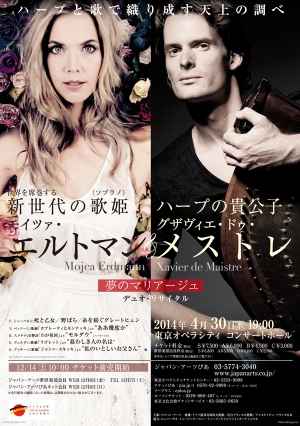 Ticket Information
Ticket Information
[Ticket price]
S:7,500 A:6,000 B:4,500 C:3,000 (YEN)
[How to purchase tickets]
1. Telephone orders
Japan Arts Pia Call Center: 03-5774-3040
(Open 10:00 a.m. – 6:00 p.m. daily, except in the New Year holiday period)
*To order from the call center, you must be able to provide a mailing address in Japan or pick up the tickets at a convenience store in Japan.
*Operators speak English.
2. E-mail Order
*Anyone can order by e-mail by filling in the required items on the specified form.
*Credit card payment is required. Tickets will be picked up at the venue on the day of the performance. The same-day pick-up counter opens 45 minutes prior to the start of the performance.
*Your personal information will not be used for any purpose other than processing this ticket order.
Notes:
*Please be aware that the requested tickets may no longer be available.
*Inquiries made on Saturday, Sunday, holidays, or during the summer or
winter business holidays, will be answered on or after the next business day.
チケット購入はこちら
[Group tickets sales]
Please inquire about group sales if you are ordering 10 or more tickets.
[Students]
Reservations for student tickets at half price each rank can be made from Feb. 3 (10a.m.) if seats are available the day before.
Qualified Students: Students below age 25 only.
Please present your student ID at the door on the day of the concert.
(Those without a student ID may be asked to pay the balance of the regular ticket price.)
[Please read the following information before purchasing tickets.]
1. Programs etc. are subject to change in case of unavoidable circumstances.
2. Purchased tickets may not be canceled or changed, except when the performance is canceled.
3. Tickets will not be reissued under any circumstances. Please take care not to lose your tickets.
4. Preschool children will not be admitted. In the case of ballet performances, children 4 years old and over will be admitted.
5. One ticket per person is required for admission to the venue.
6. All seats are reserved. Please be seated in your designated seat.
7. Photography, sound and video recording, use of mobile phones etc. in the venue are strictly prohibited.
8. Resale of tickets through internet auction sites etc. is not permitted, as problems can result.
Ticket Availability
Available / × None
Special discount
◎シニア・チケット=65歳以上の方はS席とA席が会員料金でお求めいただけます。
◎車椅子の方は、本人と付き添いの方1名までが割引になります。(ジャパン・アーツぴあコールセンターでのみ受付)
Program
Program
[Part.1]
Schubert:
Die Männer sind mechant Op. 95 D.866-1
Seligkeit D.433
Das Mädchen D.281
Heidenröslein Op.3-3 D.257
An den Mond D.259
Gretchen am Spinnrade Op.2 D.118
Mozart: Sonate facile in C major K.545 (Harp)
Deh vieni (Susanna-Arie aus Le Nozze)
Bellini: O quante volte (Giulietta-Arie)
[Part.2]
Strauss:
Schlechtes Wetter Op.69-5
Allerseelen Op.10-8
All mein Gedanken Op.21-1
Nichts Op.10-2
Du meines Herzens Krönelein Op.21-2
Ständchen Op.17-2
B. Smetana: The Moldau (Harp)
Verdi: Gualtier Malde (Gilda-Arie)
Salieri: Par les larmes dont vorte fille
Puccini: O mio babbino caro (Lauretta-Arie)
Profile
Profile
Mojca Erdmann, soprano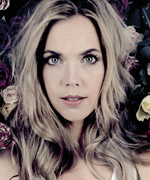 Praised by critics and loved by audiences for her beauty of tone and impeccable artistry, young soprano Mojca Erdmann is a rapidly rising star in the international music scene. Of her return to the Salzburg Festival in 2007, a critic wrote "The surprise of the evening, however, was Mojca Erdmann. (…) young, slim, blond, sporty, she was Mozart's "Zaide" last year here in Salzburg. Now she sings "Zelmira", a strong personality, a beautiful, warm, technically perfect voice that is highly expressive. She deservedly received the greatest applause."
Mojca Erdmanns begins the 2011-2012 season with a double debut at the Metropolitan in New York as Zerlina in a new production of Don Giovanni conducted by James Levine and as Waldvogel in Siegfried. Another important highlight of this season is her debut in the title role of Lulu at Staatsoper Berlin under the baton of Daniel Barenboim. She returns here later in the season to reprise her role as Ariadne in Rihm´s Dionysos for the German premiere of the work. Ms Erdmann can be heard in concert and recital extensively this season. Following her recording debut with the album Mozart´s Garden, she takes her programme of arias by Mozart and his contemporaries on a European tour which includes Basel, Prague, Munich, Baden-Baden, Berlin and Vienna. Other appearances include concerts of Rihm´s Fremdes Licht as part of the prestigious Matinee series at Amsterdam Concertgebouw, Mahler's Symphony No 4 with Bamberg Symphony Orchestra at the Canary Islands Festival, Le Rossignol with Cologne Philarmonie, Haydn´s Die Schoepfung at the Graffenegg Music Festival and recitals in recital in Vilabertran, Bonn, Graz and Vienna. Ms Erdmann also appears during the Mozartwoche in Salzburg with a solo concert of arias and a second one with the Minguet Quartet.
After her Salzburg Festival debut in 2006 as Mozart's Zaide under Ivor Bolton, she was invited to return to the festival in 2007 where she sang Zelmira in Haydn's Armida, (again, under the direction of Ivor Bolton, in a production by Christof Loy). This production was revived in 2009. In 2008, she gave her debut as Blondchen in Mozart's Die Entführung aus dem Serail at Opera Amsterdam, conducted by Constantinos Carydis. Simon Rattle invited her to sing Waldvogel in his new production of Wagners Siegfried in Aix (2008) and at the Salzburg Easter Fesival in 2009. She debuted the same year as Sophie in Strauss' Rosenkavalier in a new production by Stefan Herheim at the Staatsoper Stuttgart and appeared in a new production of Weber's Der Freischütz, another debut, at Theater an der Wien, conducted by Bertrand de Billy. Last season Ms Erdmann gave her debut as Despina in a new production of Cosi Fan Tutte in Baden-Baden where then returned as Zerlina in an all-star gala performance. Two other debuts followed Pamina in Die Zauberflöte with Cologne Opera and Marzelline in Fidelio with Nice Opera.
An unusually versatile performer, she is much sought after for her interpretation of contemporary music: She gave her debut with Berlin Staatsoper in the world premiere of Takemitsu ? My Way of Life, conducted by Kent Nagano. In 2009 she performed the title role in Wolfgang Rihm's monodrama Proserpina and the following year Rihm entrusted her with the lead soprano role in his new opera Dionysos, which saw its world premiere at the Salzburg Festival in 2010 under the baton of Ingo Metzmacher.
Mojca Erdmann has a vast concert repertoire and is frequently working with conductors such as Sir Simon Rattle, Nikolaus Harnoncourt, Ivor Bolton, Manfred Honeck, Kent Nagano, Fabio Luisi and Daniel Harding. She appeared with the Berliner Philharmonic, the Deutsches Symphonie Orchester Berlin, the Bavarian Radio Symphony Orchestra, the Vienna Symphony, the Mahler Chamber Orchestra, the Chamber Orchestra of Europe and the Swedish Radio Symphony Orchestra.
In 2007, she gave her debut at the Lucerne Festival with the Bamberg Symphony Orchestra under Jonathan Nott, performing Ligeti's Requiem. Nikolaus Harnoncourt invited her to the Vienna Musikverein for Schumann's Paradies und die Peri, to the Amsterdam Concertgebouw Orkest for Scenes from Goethe's Faust, and to the Berlin Philharmonic for Haydn's Orlando Paladino. In 2009 she appeared as Sorge/Soprano 1 in Schumann's Scenes from Goethe's Faust with the Stockholm Radio Symphony under Daniel Harding, the DSO Berlin conducted by Ingo Metzmacher, and with the Orchestra at La Scala di Milan conducted by Pinchas Steinberg in what marked her debut at La Scala. In 2011 Ms Erdmann joined the Mahler Chamber Orchestra on their tour to Asia and for concerts in Dortmund and Leipzig, performing Mahler´s Symphony No 4.
Mojca Erdmann can be heard on many recordings, including an acclaimed version of Mahler's 4th Symphony with the Bamberg Symphony Orchestra under Jonathan Nott released by Tudor and in Ravel's L'enfant et les sortilèges with the Berlin Philharmonic Orchestra under Sir Simon Rattle, released by EMI. In 2011 EMI released a recording of Wolf´s Italian Songbook which featured Mojca Erdmann, Christian Gerhaher and Gerold Huber. In 2009, the soprano signed an exclusive agreement with Deutsche Grammophon, with the first solo recording, Mozart´s Garden, featuring arias by Mozart and his contemporaries, having been released in 2011.
Born in Hamburg, she started taking violin lessons at the age of six, while also singing in the children's choir of the Hamburger Staatsoper and taking up private singing lessons. Mojca Erdmann studied singing with Hans Sotin at the Cologne College of Music, where she also studied violin. In 2002, the soprano won the first prize at the German Federal Competition (category voice), as well as the Special Prize for Contemporary Music. In August 2005, she was awarded the NDR Music Prize in the framework of the Schleswig-Holstein Music Festival, as well as the Luitpold Prize during the Bad Kissingen Summer.
Learn more
Xavier de Maistre, harp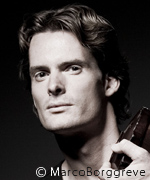 No one could have imagined at that time what to expect – like Xavier de Maistre himself, when he decided to change the face of the harp 16 years ago. Today he plays pieces like "Moldau" by Smetana in breathtaking precision and presents masterful pieces of music that are usually played by an entire orchestra.
Meanwhile, a worldwide audience listens to his virtuosity and enjoys the unprecedented sounds. Pieces, that no harpist played before, or even thought about – like the Haydn piano concertos. Not only that makes him one of the most extraordinary musicians, even masters of this time.
Xavier de Maistre began to study harp with 9 years. Like many other famous musicians, all started with love – but in this case not as expected the love to his harp. It was rather the love for his former teacher, who offered extra harp lessons. Early, it turned out that Xavier has a great talent and no wonder he started with 25 years to play for the Vienna Philharmonic. Before that he played 3 years for the Bavarian Radio Symphony Orchestra and in 1998 Xavier won the first prize of the "USA International Harp Competition", the major harp competitions in the world. But since Xavier´s family is not from a traditional harp-playing dynasty they put great importance to a solid education. So Xavier started his study of politics at the ?Institut des Sciences Politiques" in Paris and spent 1 year in London at the "London School of Economics ", when he finally decided to prefer music to the political studies. For a musician, he achieved very early what all harpists dream of a position in one of the best orchestras in the world, the Vienna Philharmonic.
However Xavier de Maistre was about to go on. To see this point as the highlight of the career, which would definitely be a great honor for most of the harpists, and aslo for Xavier, but it was also a kind of sad moment. He achieved the ultimate goal of a harpist at age 25. Through his countless appearances and his keen ambition he has always wants to refute the long-existing bias of the harp – played in the background by angel-like women. Thanks to his his quick anticipation, intelligence and tremendous skill, he has played many pieces as a soloist with the harp and delighted thousands of listeners. Finally, he succeeds to establish the harp as an independent instrument. During his career, many great conductors such as Riccardo Muti, Sir Simon Rattle, Sir Andre Previn, and Daniele Gatti became curious on him and his passion and asked him to play with them. A long series of concerts follows, convincing the audience that Xavier de Maistre is undoubtedly the master of his instrument. Not for nothing, beside famous conductors, also the most successful singers like Barbara Bonney, Kathleen Battle and Diana Damrau played with him. Likewise, of course, the long list of world-renowned opera houses which he had already visited: Theatre des Champs Elysees Paris, Concertgebouw Amsterdam, Musikverein Vienna, Tokyo Opera City, Lincoln Center New York, Salzburg Festival, La Scala Milan and many others.
No wonder, Xavier´s enthusiasm and his gift to play will not put an end to this success story. Awarded with the Echo Klassik Award 2009 for his album "Nuit d'Etoiles" as "Instrumentalist of the Year" (Sony Music) he reaps the fruits of his labor.
For more than 9 years Xavier de Maistre is working as a professor at the Musikhochschule Hamburg and now also teaches at the Julliard School in New York, at the Toho University in Tokyo and in London at Trinity College. After 11 years with the Vienna Philharmonic Xavier leaves his position in order to devote himself to his international solo career – a step that no harpist has done before.
Official homepage:http://www.xavierdemaistre.com/
Learn more
Hosts
Presented by Japan Arts
Supported by Embassy of the Federal Republic of Germany / Ambassade de France à Tokyo / Institut français du Japon / Universal Music K.K / Sony Music Japan International.