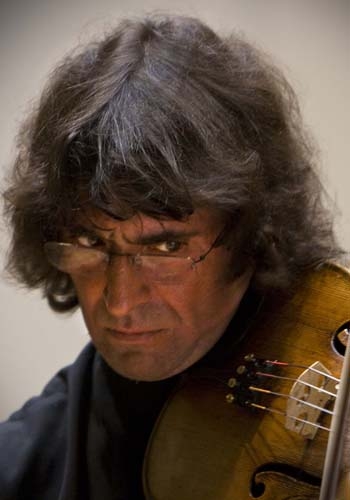 Profile
Profile
" Without doubt he is one of the greatest world's living musicians .. " "Times" London.
Yuri Bashmet is one of the greatest world musicians, who revived the interest to this instrument," "China News"
Yury Bashmet occupies a special place among musicians of the present day, turning the viola, for the very first time ever, into a recognized solo instrument. Composers worldwide have grasped on to this phenomenon and, specially for Bashmet, have created more than fifty works for viola.
Bashmet's appearances have a hypnotizing effect on listeners. As one British critic has noted, his music making seems "like rain, falling drop by drop, infiltrating the heart and animating it."
Yuri Bashmet was born in Rostov -on-Don in 1953. He graduated from the special musical school in Lvov in 1971, In MOSCOW Conservatoire his teachers were professors Vadim Borissovsky and Fiodor Druzhinin. In 1975 Y.B. gets viola Paolo Testori (Milan of 1758), on which plays till the present time.
As a Student the musician became, a Laureate of the International Competitions in Budapest I975′(second prize) and first prize in Munich 1976 . He was said to be a phenomenally gifted musician: "He could be compared only with David Oistrach as far as the perfect interpretation and brilliant sound is concerned…" wrote of the German newspapers.
His programs comprised different epochs and styles. Modern composers are eager to dedicate their works to him: A. Schnittke, G.Kancheli, E. Denisov, A. Tchaikovsky, and S. Gubaidulina. Tavener (England), Ruders (Denmark) and many others. As a whole, 50 viola concertos were written and dedicated specially to Bashmet. Y.B. has arranged A.Schnittke's " String trio " for a string orchestra (under the name " a trio – sonata " it has published by " Sikorskie").
Recitals of Yuri Bashmet, as well as the concerts in ensemble with such musicians as S. Richter, M. Rostropovich, 1. Stern, A. Mutter, M.Argerich, G. Kremer are always gathering full halls and are of the great interest. His name is also associated with first in the world history viola recitals in such famous halls in the world-as Carnegi-hall (New York), Concertgebau (Amsterdam), Barbican (London), Berlin philharmonic, La Scala (Milan), Big hall of a conservatory in Moscow and Big hall of the Leningrad philharmonic.
Y.B. cooperated with many outstanding conductors, such as R.Kubelik, S.Ozawa, G.Rojdestvensky, sir Colin Davis, J.Gardiner, M.Rostropovich, V.Gergiev, S.Dutua, N.Marriner, M.Tilson Thomas, K.Mazur, B.Haitink, S.Rattle, N.Harnoncourt, Y.Temirkhanov.
As the soloist and conductor Y.B. acts with the best symphonic orchestras: Berlin Philharmonic, Berlin Symphony, New York Philharmonic, Bayerishe Rundfunk, San Francisco Symphony, Chicago Symphony, Boston Symphony, London Symphony, Radio France, Orchestra de Paris, Wiener Philharmonic etc.
Y.B. participated in many festivals worldwide: Tanglewood (USA), Bordeaux, Menton (France), Bruxelles (Belgium), Kuhmo, Mikkeli (Finland), Kreuth (Germany), Siena, Stresa, Sorrento (Italy). He is the artistic director and one of the organizers of festival on island Elba (Italy). He is regular participant of Promenade-concerts in a Albert-hall (London, England).
Yuri Bashmet is organizer and chairperson of the jury board of the International Viola Competition in Moscow, the only one of its kind in Russia. Yuri Bashmet is the Professor of the Moscow Conservatoire, Honorable Academician of the London Arts Academy, he also teaches at Summer sessions at Academia Cidzana (Siena, Italy) and in Tours (France), He is the President of the International Viola Competition named after L. Tertis (England), a member of Jury at the Viola Competition in Munich, of "Maurice Vie" in Paris. The highest appraisal of the talent of Yuri Bashmet was his appointment as the artistic director of the musical festival "December Nights" in Moscow, which had been directed by Genius Richter for 17 years.
The performing art of Yuri Bashmet has become the focus of attention of the world public. He is won the AWARD -1993 – as "The best musician-instrumentalist of the year" (London), in 1995 he became a laureate of one of the most prestigious world prizes 'Sonnings Musicfond" (Denmark). Earlier this prize was given to I. Stravinsky, L. Bernstein; B. Britten. I Menuhin, 1. Stern, A. Rubinstein, D. Schostakovich, M.Rostropovich, S, Richter, and G. Kremer.
The International Charitable Fund, created by the musician, has founded the International premium by name Shostakovich's name for outstanding achievement in the field of world art. This premium is awarded G.Kremer (1994), Т.Quasthoff (1995), V,Tretiakov (1996), V.Gergiev (1997), А.Mutter (1998), О.Borodina (1999), N.Gutman (2001). етс.
Yuri Bashmet participated in many large charity world actions: in Carnegie-Hall (with E. John and S, Wonder), in London (commemorating Princess Diana), in conceil.5 all revenues of which were given to the relief funds for those suffered of calamities in Armenia, Japan, relief funds for children-invalids. His contribution into the world peace movement is hard to overestimate. This noble civic position of Yuri Bashmet is connection with his exception artistic activity, than rang his name with the great names of the XX century.
Maestro lives and works in Moscow.