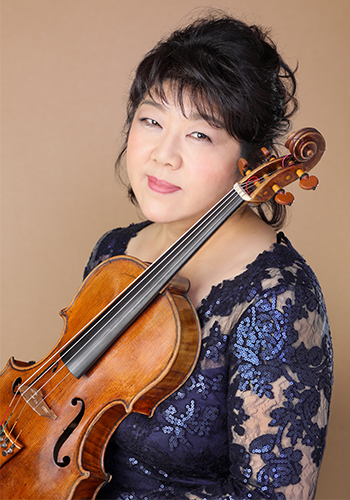 ©島崎 陽子
Profile
Profile
Yoshiko Kawamoto was the winner of the highest prize (2nd prize with no 1st prize winner) in the viola division of the 1992 Geneva Competition. She received the 1996 Muramatsu Award, and the Promising New Artist Prize in the 7th Nippon Steel Music Awards (1997). Kawamoto has served as principal guest musician with the NHK Symphony Orchestra since 2017, and is one of Japan's leading violists as both a soloist and chamber music player. She is a member of the Kyoto Alti String Quartet and AOI residence quartet.
Kawamoto began taking violin lessons at the age of three. After attending the Toho Gakuen Music School for Children and the Toho Gakuen Music High School, she graduated from Toho Gakuen College. She has studied violin with Toshiya Eto and Aiko Suzuki, and chamber music with Yasuo Sueyoshi and Koichiro Harada. In 1989, she won 1st prize in the 6th Tokyo International Competition (chamber music division) with Y Quartet.
Kawamoto changed her instrument to viola when she joined the Tokyo Metropolitan Symphony Orchestra in 1991. She served as principal viola player from 1999 until she left the orchestra in 2002. She has participated in a number of important music festivals, including Tanglewood and Marlboro (U.S.A.) and Davos (Switzerland). She has been regularly invited to perform with the Saito Kinen Orchestra, Ozawa Ongaku Juku and Mito Chamber Orchestra, and in the Martha Argerich Festival. Her performances with world-renowned soloists such as Martha Argerich and Yuri Bashmet have been highly acclaimed. Kawamoto has performed as a soloist under the batons of renowned conductors such as Gary Bertini, Jean Fournet, and Peter Maag.
2020/21 season only.