WDR Symphony Orchestra Orchestra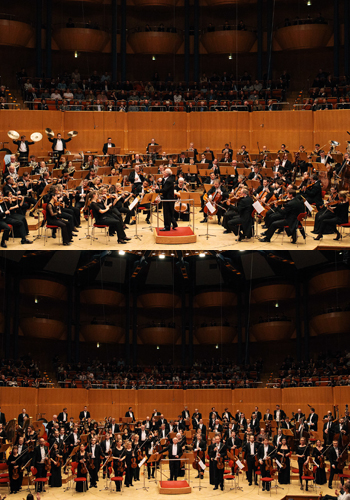 ©Joern Neumann
Profile
Profile
In the more than seventy years of its existence, the WDR Symphony Orchestra of Cologne has established itself as one of the most important European radio orchestras. Stylistic versatility and artistic excellence are the trademarks of the WDR Symphony Orchestra. It defines the musical landscape of Nordrhein-Westfalen in an extraordinary way ? through its subscription series in the Cologne Philharmonie and the Funkhaus Wallrafplatz as well as through its partnerships with the bigger concert venues and festivals of the region. Tours abroad and award-winning CD productions underline the orchestra's international significance as an outstanding representative of the German orchestral scene.
After its foundation in 1947, the orchestra initially worked together with remarkable guest conductors, from 1964 onwards, it developed long-term relations with the chief conductors Christoph von Dohnányi, Gary Bertini and Semyon Bychkov. Under their guidance, the orchestra was made a leading performer of Gustav Mahler's symphonies, as well as of works by Dimitri Shostakovich, Richard Strauss, Sergei Rachmaninoff, Giuseppe Verdi and Richard Wagner. The WDR Symphony Orchestra has frequently toured through Europe, the US and Asia.
Numerous first performances of commissioned works made a contribution to the history of music and to the support of contemporary music. Great composers such as Igor Stravinsky, Luciano Berio, Hans Werner Henze, Karlheinz Stockhausen, Mauricio Kagel, Wolfgang Rihm, Jörg Widmann and Krysztof Penderecki performed their works with WDR Symphony Orchestra. The WDR Symphony Orchestra moreover has significantly contributed to the dissemination of classical music through radio and television broadcasts, digital media and its education programs.
From the beginning of the 2010/2011 season till 2018/19, Jukka-Pekka Saraste was engaged as chief conductor of the WDR Symphony Orchestra. The Finnish maestro has brought the music of his countryman Jean Sibelius into sharper focus and created a Brahms cycle that was hailed far beyond the region. Saraste has also paid serious attention to the national movements in the music of European Romanticism and to the classic repertoire of the Modern era. Under his direction, the WDR Symphony Orchestra has released CD recordings of works by Mahler, Bruckner, Schoenberg, Stravinsky and Beethoven which have been acknowledged with generous critical praise and awarded major prizes.
At the beginning of the 2019/20 season, Cristian Măcelaru, one of the fast-rising stars of the conducting world, has been appointed Chief Conductor of the WDR Sinfonieorchester.
Since many years, the WDR Symphony Orchestra has had a strong relationship with Marek Janowski. In 1983 Marek Janowski made his first appearance with the WDR Symphony Orchestra Cologne. In February 2018, his first CD together with the WDR Symphony Orchestra Cologne with works by Hindemith (Symphonic Metamorphosis, Nobilissima Visione and Boston Symphony) was released by Pentatone. In addition a Beethoven cycle will be published in early 2020. On occasion of Marek Janowski's 80th birthday the WDR Symphony Orchestra Cologne toured together with him through Germany, including a concert in the Berliner Philharmonie.