Thomanerchor Leipzig & Gewandhausorchester Leipzig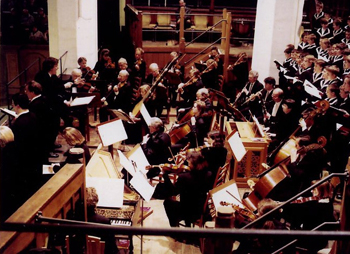 Profile
Profile
The history of the St Thomas Boys Choir spans almost 800 years and is full of disputes to do with national and municipal politics, religion and the school itself.
The members of the choir are all boarders at the Leipzig Thomasschule, the school connected with St Thomas's Church, which is their main workplace.
The St Thomas Boys Choir is only a half century younger than Leipzig itself and is the city's oldest cultural institution.
At the Parliament in Frankfurt in 1212 Otto IV of Brunswick endorsed the formation by members of the Augustinian order of the St Thomas choral foundation initiated by Margrave Dietrich the Oppressed of Meissen.
The foundation included a seminary originally intended to train boys for the priesthood. However, it was soon also opened to boys who were not part of the foundation. Liturgical singing was on the curriculum from the outset.
The first in the long line of Thomaskantors (directors of music at St Thomas's) was Georg Rhau, during whose two-year term of office the famous disputation between Martin Luther and Johann Eck took place in Leipzig (1519). While the early office-holders remained for relatively short periods, Sethus Calvisius was Thomaskantor for twenty years, from 1594 to 1615. He was followed by such famous figures as Johann Hermann Schein (1616-1630), Johann Kuhnau (1701-1722) and Johann Sebastian Bach, who was installed on May 31, 1723 and remained in office for 27 years.
Subsequent Thomaskantors who exerted influence on Lutheran church music were Gottlob Harrer, Johann Friedrich Doles, Johann Adam Hiller, August Eberhard Müller, Johann Gottfried Schicht, Christian Theodor Weinlig, Moritz Hauptmann, Ernst Friedrich Richter, Wilhelm Rust, Gustav Ernst Schreck, Karl Straube, Günther Ramin, Kurt Thomas, Erhard Mauersberger, Hans-Joachim Rotzsch and since 1992 Georg Christoph Biller.
The boon of mass transportation in the twentieth century allowed the St Thomas Boys Choir to extend its concert activities to other cities and countries. The choir had of course long since established itself in the concert life of Leipzig and its performances of motets and cantatas on Fridays and Saturdays in St Thomas's Church had become important musical events. Under Straube's direction the regular performances of J.S. Bach's Passions, Christmas Oratorio and B minor Mass attained the degree of perfection they retain to this day.
(Translation: J & M Berridge)