The State Moscow Chamber Choir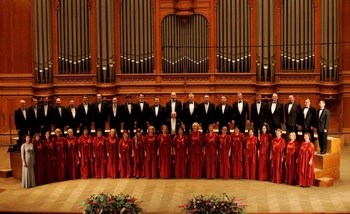 Profile
Profile
After successful tour in Japan in 2009 Moscow Chamber Choir performed two concerts in Singapore (a capella concert and with the chamber ensemble "Soloists of Moscow", conductor Yury Bashmet) where Russian choral music has sounded for the first time.
Maestro Vladimir Minin and Mikhail Pletnev are united by the common esthetic views and ideas. This connection is expressed in bright creative team projects. During the last years Moscow Chamber Choir and Russian National Orchestra (under conduction by Mikhail Pletnev) had prepared:
"Pauken Messe" by Hydn (conductor Vladimir Minin, 2009),
"Christ on the Mount of the Olives" by Beethoven (conductor Mikhail Pletnev, 2009),
"Per Gynt" by Grieg (2009), "John of Damascus" by Taneev and Symphony № 9 by Beethoven (2010) in the network of Grand festival of the RNO,
"German Requiem" by Brahms (conductor M. Pletnev, 2011).
In September 2011 the Moscow Chamber Choir and the Russian National Orchestra intend to perform "Requiem" by Verdi.
The outstanding composer Giya Kancheli trusted the performance of his works to Moscow Chamber Choir. Two great premiers appeared last year in Russia – "Lulling the Sun", "DIXI".
In February 2010, the Choir took part in Russian Week within the Olympic Games in Vancouver. The real triumph and grand success was a capella performance of Russian National Anthem during the closing ceremony of the Olympiс Games. There was also a full house in St.Andrew Church during Choir's a capella concert.
In March 2010 the Choir took part in the 1st Festival "Week of M. Rostropovich in Moscow" where was performed and recorded "Bells" by S. Rakhmaninov under conducting by Jóse Serebrier (USA).
The recording of "Fragile" in August, 2010, made special for his world tour, was highly appreciated by its author ? great rock-singer Sting.
The latest one – "Russian Spirit" which consists from Russian folk songs – was recorded in December, 2010 and devoted to the forthcoming tour to Japan.
In the end of 2010 appeared Vladimir Minin's book "Solo for the conductor" and DVD "Vladimir Minin. Man who performed a miracle" (with English subtitles) which consists from deep thoughts of Maestro and unique records of the Choir.
On the 26th May, 2011, in Tchaikovskiy Concert Hall Maria Guleghina, a great star of world's opera scene, will perform with the Choir the program of Russian music.