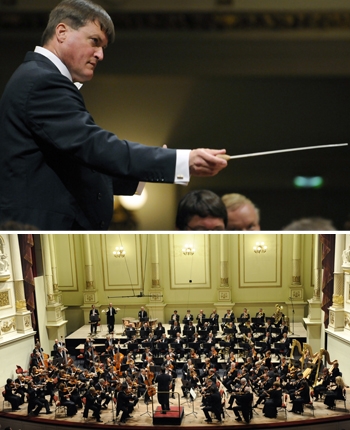 Profile
Profile
Principal Conductor from August 2012
Born in Berlin, Christian Thielemann comes from a family of music-lovers. He began his professional career in 1978 as a rehearsal pianist at the Deutsche Oper in Berlin. Following positions in Gelsenkirchen, Karlsruhe and Hanover he joined the conducting staff at the Rhine Opera in Dusseldorf in 1985. Three years later he became Germany's youngest music director in Nuremberg, before returning to the Deutsche Oper in Berlin in 1997, holding the position of music director there for seven years. Thielemann conducted the Munich Philharmonic Orchestra from 2004 to 2011. In the summer of 2012 he will take up the baton in Dresden as principal conductor to the Staatskapelle.
Christian Thielemann's repertoire is extensive, ranging from Bach to Henze and Gubaidulina.
His interpretations of German romantic music, both in opera and on the concert stage, are regarded around the world as exemplary. His Bayreuth debut came in 2000 ("Die Meistersinger von Nürnberg"), since when his annual appearances have set new standards in conducting. At the Salzburg Festival of 2011, Thielemann directed a new production of "Die Frau ohne Schatten" by Richard Strauss.
His lengthy discography with Deutsche Grammophon encompasses numerous symphonic works and operas. Together with the Vienna Philharmonic Orchestra he has recorded a complete cycle of Beethoven's symphonies, also released on DVD in autumn 2010 and on CD in 2011. Up to now his releases with the Staatskapelle have included Bruckner's Eighth Symphony, Beethoven's "Missa solemnis" and the live recordings of the ZDF New Year's Eve Concert in 2010 and 2011 from the Semperoper. Besides, Wagner's "Faust"-compositions and the first piano concertos of both, Liszt and Brahms, together with the pianist Maurizio Pollini were released on CD.
From 2013 on, Thielemann will take over the position as artistic director of the Osterfestspiele Salzburg conducting the Staatskapelle Dresden which will be the festival orchestra.
In October 2011, Christian Thielemann received Honorary Membership of the Royal Academy of Music in London. In the same month, he was awarded with an honorary doctorate of the Liszt School of Music Weimar.

Christian Thielemann Principal Conductor from 2012
Sir Colin Davis Conductor Laureate
On 22nd September 2008 the Staatskapelle Dresden celebrated its 460th jubilee. Founded by Prince Elector Moritz von Sachsen in 1548, it is one of the oldest orchestras in the world and steeped in tradition.
Over its long history many distinguished conductors and internationally celebrated instrumentalists have left their mark on this onetime court orchestra. Previous directors include Heinrich Schütz, Johann Adolf Hasse, Carl Maria von Weber and Richard Wagner, who called the ensemble his ?miraculous harp?.
The list of prominent conductors of the last 100 years includes Ernst von Schuch, Fritz Reiner, Fritz Busch, Karl Böhm, Joseph Keilberth, Rudolf Kempe, Otmar Suitner, Kurt Sanderling, Herbert Blomstedt, Giuseppe Sinopoli and Bernard Haitink. Fabio Luisi was music director of Saxon State Opera and the Staatskapelle Dresden from 2007 to 2010. Christian Thielemann will assume the post of principal conductor to the Staatskapelle from 2012, and Sir Colin Davis has been the orchestra's conductor laureate since 1990.
Richard Strauss and the Staatskapelle were closely linked for more than sixty years. Nine of the composer's operas were premiered in Dresden, including ?Salome?, ?Elektra? and ?Der Rosenkavalier?, while Strauss's ?Alpine Symphony? was dedicated to the orchestra. Countless other famous composers have written works either premiered by the ensemble or dedicated to it. In 2007 the Staatskapelle reaffirmed this tradition by introducing the annual position of ?Capell-Compositeur?, subsequently held by composers Isabel Mundry, Bernhard Lang, Rebecca Saunders und Johannes Maria Staud. The Capell-Compositrice for the 2011/2012 season is
Lera Auerbach.