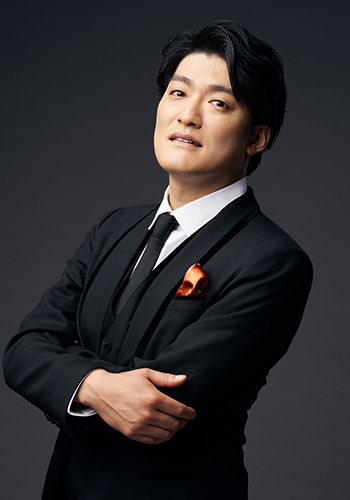 ©︎T. Tairadate
Profile
Profile
Satoshi Nishimura graduated from the Music Department of Nihon University College of Art, and received a Master's degree in Opera from Tokyo University of the Arts. He studied voice with Katsuumi Niwa, Hiroshi Kawakami, and Yoko Takeda. He won the Grand Prize (First Prize) in the 36th Concorso Milano Music Arte.
He studied at the National Music Conservatory in Bologna. In 2010, Nishimura returned to Italy for advanced study in Verona on a grant from the Japanese Government Overseas Study Program for Artists.
In 2011, Nishimura won Second Prize, as well as the Awards Committee Chairman's Special Prize, at the 17th Riccardo Zandonai International Competition for Young Opera Singers in Italy, which is known as a gateway to success for young talent. He also won First Prize and the Audience Prize at the 80th Music Competition of Japan.
He performed Britten's "Nocturne" with the Mito Chamber Orchestra conducted by Kazushi Ono in January 2013, Mendelsshon's Symphony No. 2 Lobgesand with the Orchestre de la Suisse Romande conducted by Kazuki Yamada in July 2014, and served as tenor solo in the concerts of Beethoven's 9th symphony with WDR Sinfonieorchester Köln conducted by Yutaka Sado in December of the same year. Recent opera performances he appeared include the New National Theatre opera Yashagaike and the Fujiwara Opera production of La Traviata. and Madama Butterfly.
In 2015, he performed in La Traviata in concert with Sendai Philharmonic Orchestra conducted by Kazuki Yamada in July, Beethoven's 9th symphony with Hiroshima Symphony Orchestra conducted by Kazushi Ono in August, and Mahler's Das Lied on der Erde with Japan Philharmonic Orchestra conducted by Pietari Inkinen in November. In December, he performed in Beethoven's 9th symphony with Hyogo Pac Orchestra conducted by Yutaka Sado, New Japan Philharmonic conducted by Domingo Hindoyan, and Tokyo Symphony Orchestra conducted by Kazuyoshi Akiyama and Naoto Otomo.
He was awarded the 2013 Gotoh Cultural Award (Opera Newcomer Award, Opera Division) and the 23rd Idemitsu Music Award. A member of the Fujiwara Opera,
Movies
Movies
【10 minutes concert】Vol.2 Tenor:Satoshi Nishimura Piano:Tadayuki Kawahara