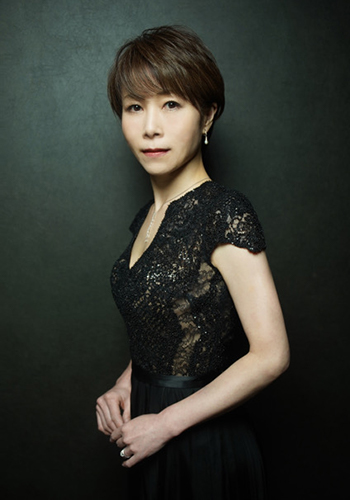 ©Goda
Profile
Profile
Miwako Handa graduated from Toho Gakuen College and then completed that college's graduate course. She won the highest prize and the Shizuko Kawasaki Prize when she completed a course at Nikikai Opera Studio. She also won First Prize and the Fukunaga Prize at the 4th Fujisawa Opera Competition. She then continued her studies in Berlin.
With a vocal range extending from coloratura to a richer and heavier middle-low-pitched voice, Handa has a wide-ranging repertory and often performs contemporary music, which sometimes requires a wider vocal span. Her activity is truly diverse and genre-crossing.
Handa made her opera debut performing Susanna in Le Nozze di Figaro with Nikikai.
Then she often performed at the New National Theatre in Tokyo. She received high praise for roles including Nanetta in Falstaff, Musetta in La Bohême, Gretel in Hänsel und Gretel, Adele in Die Fledermaus, Madame Lidoine in Dialogues des Carmélites, Concepción in L'heure espagnole and others. Her singing embodies a profound spirituality, making her a unique and powerful presence on Japan's stages. Having earned the trust of leading Japanese composer Toshio Hosokawa, she performed the role of Hanako in his opera Hanjo (from the original drama written by Yukio Mishima, English translation by Donald Keene) in its Japan premiere at the Suntory Music Foundation Summer Festival in 2009. Her interpretation was lauded by the composer as the closest to his image of Hanako. Following three successful performances in Tokyo, she performed the same role in Turin and Milan and was highly praised. Handa also received high critical acclaim when she performed the same role in new productions of the opera directed by Oriza Hirata in 2012 and by Tatsuji Iwata in 2017. In addition, Handa performed the role of Regan in Hosokawa's Vision of Lear (2015), and the title role of the same composer's opera Matsukaze, produced by Sasha Waltz, in the opera's Asian premiere in Hong Kong in 2016. The Sasha Waltz production of Matsukaze caused a stir as an endeavor to fuse opera and contemporary dance by instructing singers to vocalize while dancing acrobatically as part of the production's group of dancers. Handa gave form to this difficult assignment perfectly through her acting and singing, leaving a powerful impression on audiences.
In March 2019, Handa was acclaimed by audiences for her performance of the lead role in Ikuma Dan's opera Yuzuru on the opera's Russian tour in Vladivostok and St. Petersburg (with the Tokyo City Philharmonic Orchestra conducted by Ken Takaseki), organized jointly by the Japanese Ministry of Foreign Affairs and the Mariinsky Theatre as part of the "Year of Japan in Russia."
As a concert soloist, Handa has appeared in performances of works such as Mozart's Requiem, Faure's Requiem, Mendelssohn's "A Midsummer Night's Dream," Ravel's "Shéhérazade," Mahler's "Symphony of a Thousand" and Fourth Symphony, Verdi's Requiem, Orff's "Carmina Burana," and Berg's "Seven Early Songs." She has performed with orchestras including the NHK Symphony, the Tokyo Metropolitan Symphony, and the Yomiuri Nippon Symphony, under the batons of such renowned conductors as Blomstedt, Inbal, Honeck, Märkl, Calignani, Kazuyoshi Akiyama, Ken Takaseki, and Tatsuya Shimono. In recent years she has received acclaim for her subtle technique and outstanding artistry in performances of works such as Berg's "Lulu Suite," the Japan premiere of Toshio Hosokawa's "Starless Night," and Ligeti's "Mysteries of the Macabre." In 2014, Handa was invited to appear with the New York orchestral group Perspectives Ensemble, earning high praise for her performance.
Miwako Handa's first album, Khôra-Niemandslied, was chosen as a special selection of music magazines and other media. Her wide-ranging activities also include participation in the movie Nodame Cantabile and the musical creation of the theatre group Gekidan Shinkansen, as well as the collaboration "Rakugo and Songs." In 2014, she participated as a vocalist in an album by the leading Japanese progressive rock band KENSO, and performed in the band's 40th anniversary concert held at Club Citta in Kawasaki. Miwako Handa continues to explore new possibilities and expand her range of activity.