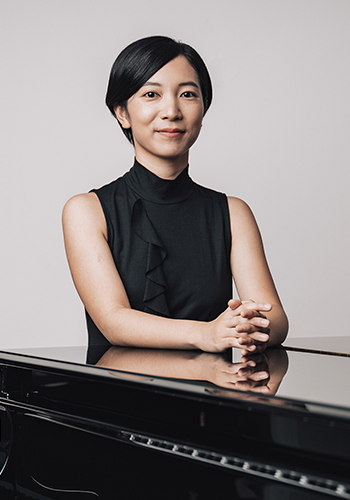 ©No Credit
Profile
Profile
Misora began playing the piano at the age of four. She is a prizewinner of many competitions throughout Japan and abroad. She has been performing many solo concerts and concerts with orchestras including Lithuanian National Symphony Orchestra, Poland Filharmonia Krakowska, Polish Silesian Philharmonic Orchestra, Tokyo Philharmonic Orchestra and Osaka Philharmonic Orchestra. Misora released her first album in March 2017 on King Records. She graduated from Showa University of Music, where she studied under Fumiko Eguchi, and is currently studying under Antti Siirala at Hochschule für Musik und Theater München.
Competitions & Awards
AUG 2008: 5th Prize, Ettlingen International Competition for Young Pianists (Category A) – Germany
JAN 2009: Gold Prize, Chopin International Piano Competition in ASIA (Jr.High School)
AUG 2010: Gold Prize, PTNA Piano Competition (Jr.G)
AUG 2010: IMA Music Award, Ishikawa Music Academy
JUL 2011: 4th Prize, e-Piano Junior Competition – U.S.A.
JAN 2012: Silver Prize, Chopin International Piano Competition in ASIA (Concerto C)
MAY 2012: Laureate, Balys Dvarionas Competition for Young Pianists and Violinists
(C group) – Lithuania
JUN 2012: 1st Prize (High School), 2nd prize (Concerto), Aloha International Piano  Festival and Piano Competition U.S.A.
SEP 2012: 3rd Prize and Special Prize for the Best Performance of the Miniatures,
International Frederick Chopin Competition for Young Pianists – Russia
JAN 2014: Gold Prize, Chopin International Piano Competition in ASIA (Professional)
MAY 2014: Semi-Finalist, Arthur Rubinstein International Piano Master Competition ? Israel
MAR 2016: 3rd Prize, Hamamatsu International Piano Academy Competition
AUG 2016: Grand Prize in the 40th PTNA Piano Competition
SEP 2019: 1st & Audience Prize, the 15th International MozARTe Piano Competition
Major Concert Appearances
2008: Piano Concerto with Poland Filharmonia Krakowska
2009: Solo Recital at Meguro Persimmon Hall, Tokyo
2010: Solo Recital at Sagawa Bunko, Ibaraki
2011: Performed in concerts in Tokyo and Chiba
Piano Concerto with Minnesota Orchestra
2012: Piano Concerto with Polish Silesian Philharmonic Orchestra
Piano Concerto with Lithuanian National Symphony Orchestra
Piano Concerto with Tokyo Philharmonic Orchestra conducted by Kenichiro Kobayashi
Piano Concerto with Tokyo Philharmonic Orchestra conducted by Masahiko Enkoji
2014: Solo Recital at The Nippon Foundation, Tokyo
Piano Concerto with Osaka Philharmonic Orchestra conducted by Shimono Tatsuya
2015: Solo Recital in Chopin Festival 2015 in Omotesando, Tokyo
2017: Solo Recital at Hamarikyu Asahi Hall, Tokyo
2020/21 season only.
Movies
Movies
PTNA2016特級ファイナル 尾崎未空/プロコフィエフ:ピアノ協奏曲第3番 ハ長調 Op.26
Misora Ozaki – Chopin Piano Competition 2015 (preliminary round)