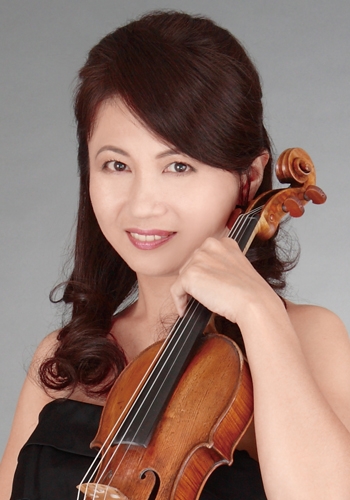 ©Eiji Shinohara
Profile
Profile
Keiko Urushihara won the first prize as well as six other prizes at the 8th Wieniawski International Competition at her age 18 as the youngest ever and the first Japanese winner while she was still a student of the high school attached to the Tokyo University of Arts. She started her career as a violinist next year at the same as she entered the Tokyo University of Arts. In 1986, as a member of the Halley String Quartet she won the first prize in the chamber music division and Hideo Saito Prize at the Min'on Music Competition.
Keiko Urushihara has toured in Japan and abroad, appeared on TV, performed in major international music festivals and many master classes. Among the conductors and orchestras she has performed with are Vladimir Spivakov, Ervin Lukacs, Jiri Belohlavek, Hungarian National Symphony Orchestra, Slovak Philharmonic Orchestra, and Vienna Radio Symphony Orchestra. She also appeared in many recitals and chamber music concerts winning high acclaim.
She has released many CDs, among which J.S. Bach unaccompanied violin solos for Japan Acoustic Records won "Most Recommended CD". Also, "Unaccompanied violin duos" recorded with her sister Asako Urushihara for the same label attracted great attention winning "The National Arts Festival Excellence Award" of the Arts Festival sponsored by the Agency for Cultural Affairs.
Active in the front lines, her constantly high-level performance has gained her the trust not only of music lovers but of conductors and musicians of orchestras. Currently Keiko Urushihara is a visiting professor with Kunitachi College of Music and special-appointment professor with Toho Gakuen College.
(June 2020)
Movies
Movies
Keiko Urushihara - violin masterclass in Poznan (Poland) - with English subtitles
Keiko Urushihara (Japonia) - warsztaty skrzypcowe w Poznaniu