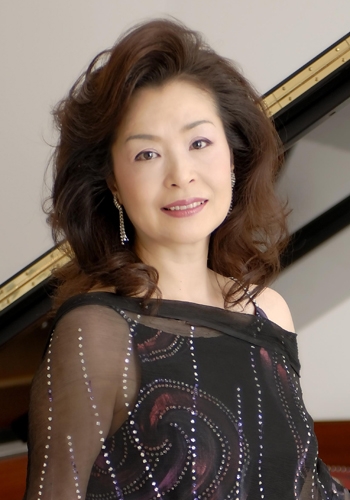 ©武藤 章
Profile
Profile
Etsuko Terada has marked the anniversary years of several composers with important concert events: in 2006, a four-evening series of the complete Mozart piano sonatas for the 250th anniversary of the composer's birth; and a concert of the complete Chopin Mazurkas and Sonatas, and a 5-recital series of Schumann's major works performed in chronological order, for the 200th anniversary year of those composers in 2010.
Currently Terada is performing the series "The Secret of Key," in which each performance consists of works in the same key, showing how a key can sound different according to the particular composer and era.
After studying piano in Japan under Setsuko Murata, Takako Kondo, and Hiroshi Murata, Terada went to study in Vienna at the age of 16. In 1977 she won Third Prize and a gold medal at the second Arthur Rubinstein International Piano Competition, and in 1978 she was a prize winner in the Leeds International Piano Competition. She went on to appear in international music festivals, perform in recital and with orchestras in Japan and other countries, and appear in duo concerts and piano recitals with her pianist husband Kikuo Watanabe.
Terada delights audiences with a sound extolled as resembling "pearl drops" and a technique praised as being "fine as a golden thread," as well as with the brilliant and glittering atmosphere she creates in her performances.
Among her numerous recordings, Terada has released CDs of works by Chopin titled Nohan and Nohan II on the Exton label. In April 2012 she and Ikuo Watanabe released a CD of two-piano works on the Triton label called Spring Festival Music & Rachmaninov, which has been highly acclaimed and named as a special selection of Record Geijutsu magazine.
(June 2020)
Movies
Movies
Beethoven :Grosse Fuga in B-Flat Major for Piano 4 hands Op.134