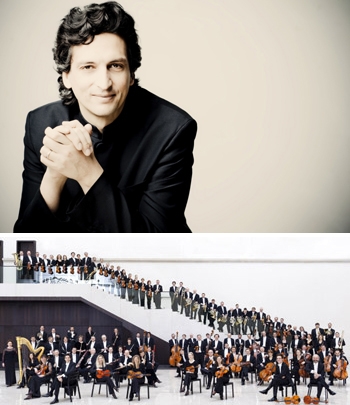 Profile
Profile
Dresden Philharmonic can look back on a 150-year-tradition as the orchestra of Saxony's capital Dresden. Ever since 1870, when Dresden was provided with its first large concert hall, its symphony concerts have been an integral element of the city's cultural life. The Dresden Philharmonic has remained a concert orchestra to this day, with regular excursions into concert performance and oratorio. Its homestead is the state-of-the-art concert hall inaugurated in April 2017 in the Kulturpalast building at the heart of the historic district. The principal conductor of the Dresden Philharmonic since 2011 is Michael Sanderling. Besides Kurt Masur, principal conductor in the years 1967-1972, his predecessors have also included Paul van Kempen, Carl Schuricht, Heinz Bongartz, Herbert Kegel, Marek Janowski and Rafael Frühbeck de Burgos, amongst others.
The musical and stylistic bandwidth of the Dresden Philharmonic is great. On the one side, the orchestra has managed to preserve its very own "Dresden sound" in the romantic repertoire. And on the other, it has developed a tonal and stylistic flexibility for the music of the Baroque and First Viennese School as much as for modern works. Important composers have also taken to its conductor's desk from early on, from Brahms, Tchaikovsky and Dvořák via Strauss through to Penderecki and Holliger.
World premieres continue to play an important part in the programme to this day. Guest performances around the world attest to the high esteem enjoyed by the Dresden Philharmonic in the world of classical music. And the Philharmonic's discography to have accumulated since 1937 is also impressive. A new CD cycle directed by Michael Sanderling and released by the Sony Classical label creates a dialogue between the symphonies of Dmitri Shostakovich and Beethoven.