The Symphonieorchester des Bayerischen Rundfunks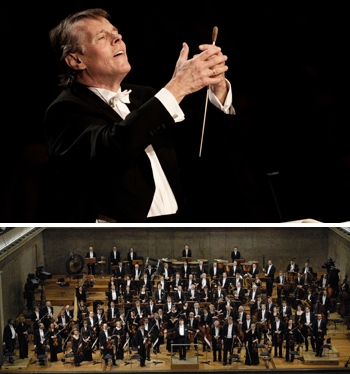 Profile
Profile
Soon after it was founded by Eugen Jochum in 1949, the Symphonieorchester des Bayerischen Rundfunks developed into an internationally renowned orchestra, its fame continuously expanded and fortified by its chief conductors Rafael Kubelik, Sir Colin Davis and Lorin Maazel. Since 2003 it is Mariss Jansons setting new standards as the orchestra's Chief Conductor.
Besides the orchestra's repertoire of classical and romantic oeuvres a strong focus lies on contemporary works, in conjunction with the "musica viva" series, founded 1945 by Karl Amadeus Hartmann. Right from the start it was one of the main assignments to foster contemporary works of composers like Igor Stravisky, Darius Milhas as well as, more recently Karlheinz Stockhausen, Mauricia Kagel, Luciano Berio and Peter Eötvös. Many of them stood on the podium themselves.
Many renowned guest conductors shaped the artistic profile of the Symphonieorchester. Maestri like Erich and Carlos Kleiber, Otto Klemperer, Leonard Berstein, Georg Solti, Maria Giulini, Kurt Sanderling and ? in recent times ? Bernard Haitink, Riccardo Muti, Esa-Pekka Salonen, Herbert Blomstedt, Daniel Harding, Yannick Nézet-Séguin, Sir Simon Rattle and Andris Nelsons.
Besides the many performances in Munich and other German cities extensive concert tours have taken the orchestra to virtually every European country, to Asia as well as to North and South America. It makes regular appearances in New York's Carnegie Hall and other musical capitals. Since 2004, the Symphonieorchester under the direction of its current Chief Conductor, Mariss Jansons, is additionally the orchestra in residence at the Easter Festival in Lucerne.
The Orchestra gives special attention to the encouragement of up-and-coming young musicians. Since October 2001 the Academy of the Symphonieorchester des Bayerischen Rundfunks has been doing valuable educational work by preparing young musicians for their later careers thus building a solid bridge between education and professional activity. Beyond this, the Symphonieorchester maintains a program for young people with activities designed toward the worthy goal of bringing the younger generation closer together with classical music.
With a high number of CD releases on major labels and – since September of 2009 ? also on Bavarian Broadcasting's own label – BR-KLASSIK, the BRSO regularly obtains national and international awards like the Grammy or ? most recently ? BBC Music Magazine's Award "Recording of the Year" (Mahler's Symphony No. 3 with Bernard Haitink) and the German Record Critics' Award (Bruckner's 8th Symphony with Mariss Jansons)
In a number of different surveys of music critics, the Symphonieorchester des Bayerischen Rundfunks is counted as one of the top ten orchestras in the world.