City of Birmingham Symphony Orchestra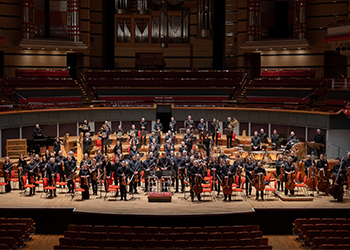 Profile
Profile
The City of Birmingham Symphony Orchestra (CBSO) is one of the UK's leading symphony orchestras. Based at Birmingham's Symphony Hall, it plays over 130 concerts each year in Birmingham, around the UK and overseas ? as well as running five choruses, a youth orchestra, and a Learning and Participation programme that enriches tens of thousands of lives every year. As it approaches its 100th anniversary in 2020, the CBSO is proud to have won a global reputation while remaining firmly rooted in the heart of the UK's second city. And as the only professional symphony orchestra based between Bournemouth and Manchester, it's just as proud of its 95-year tradition of bringing great music to communities throughout the Midlands and the wider UK.
Founded by Birmingham's civic leaders immediately after the First World War as a way of helping the city get back on its feet, the CBSO gave its first symphonic concert in November 1920 ? conducted by Sir Edward Elgar. Under principal conductors including Adrian Boult, Leslie Heward, Andrzej Panufnik and Louis Frémaux, the CBSO continued to serve the city and the region through war, recession and social change, winning an artistic reputation that spread far beyond the Midlands. Never ashamed to innovate, it introduced its first children's concerts in the early 1920s ? and in the 1980s, collaborated with UB40!
In its early years the orchestra worked regularly with major composers including Holst, Sibelius, Tippett and Samuel Barber. But it really came into the international spotlight when in 1962 it gave the first performance of Britten's War Requiem in the newly-rebuilt Coventry Cathedral. 18 years later in 1980 the CBSO made history again, when it took a gamble and appointed an unknown young Liverpudlian called Simon Rattle as its principal conductor. Between 1980 and 1998 Rattle and the CBSO became globally famous, both for the energy and optimism of their music-making, and the way they worked together to put Birmingham on the musical map.
Under Rattle's successors Sakari Oramo (1998-2008) and Andris Nelsons (2008-2015) the CBSO has continued to build on that legacy in Birmingham and further afield. A CBSO concert in Tokyo was voted as Japan's best orchestral performance of 2013 in a poll of music critics, while in 2008, the CBSO's recording of Saint-Saëns' complete piano concertos was named the best classical recording of the last 30 years by Gramophone. The CBSO's Learning and Participation projects range from workshops in nurseries to initiatives that energise whole neighbourhoods. And everyone's welcome at CBSO Centre on Berkley Street ? the orchestra's rehearsal base and a friendly, stylish performance venue for its own lunchtime concert series, Centre Stage Meanwhile, The CBSO Chorus ? a symphonic choir made up of "amateur professionals", trained by Simon Halsey CBE – has an outstanding reputation in its own right, while the CBSO Children's Chorus and Youth Chorus showcase singers as young as eight. Through three unauditioned choirs, the CBSO shares its know-how and passion for music with communities throughout the city. And the CBSO Youth Orchestra gives that same opportunity to young instrumentalists aged 14-21, offering high-level training to the next generation of orchestral musicians alongside top international conductors and soloists.
Today, under the artistic leadership of principal guest conductor Edward Gardner, associate conductor Michael Seal and assistant conductor Alpesh Chauhan, the CBSO continues to do what it does best ? playing great music with passion to the widest possible audience. The 2015-16 season ranges from Handel, Beethoven, Elgar and Mahler to opera and new music – while popular Friday night shows and lively family concerts offer world-class music making for all tastes and all ages.
To find out more visit the website: www.cbso.co.uk
or follow the CBSO on Facebook, facebook.com/thecbso
or Twitter, @theCBSO