Alti String Quartet
Chamber Music

Management Collaboration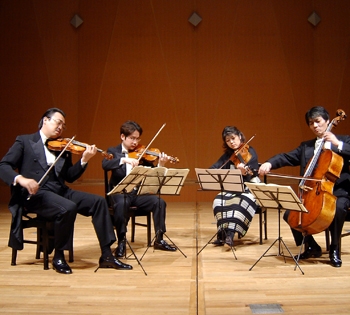 Profile
Profile
The ALTI String Quartet was founded in Kyoto in 1998 by four first-class soloist string musicians, violinists Yasushi Toyoshima and Tatsuya Yabe, violist Yoshiko Kawamoto, and cellist Noboru Kamimura.
They took their name from Kyoto Fumin Hall (ALTI) where they serve as the resident quartet. Their activities have spread from Kyoto throughout the entire nation.
One of the unique characteristics of this quartet is that they perform one of Beethoven's string quartets at each of their concerts at their resident hall in Kyoto. Their repertoire also includes the string quartets of Mozart, Haydn, and Dvorak. Another of their unique features is that the 1st violinist and the 2nd violinist change places depending upon the piece being played, indicating the high level of their musical skill.
It is quite difficult for group of soloists to develop a cohesive performance style in a quartet, the lifeblood of which is chamber music, while also continuing their soloist activities individually. However, these four musicians all have a highly developed technique which allows them to preserve the fineness of a quartet while asserting themselves as musicians, resulting in extreme delicacy and nuance in their musical expression. Since they formed the quartet they have continued to mature as a group and now are recognized as Japan's foremost string quartet.
ALTI String Quartet was awarded the 28th Music Critic Club Award in 2008.