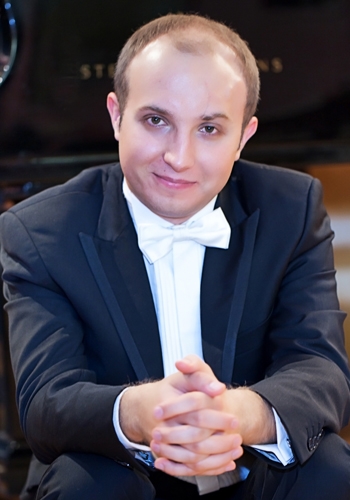 ©Mika Bovan
Profile
Profile
A stunningly virtuosic pianist, Alexander has received international critical acclaim for his electrifying and poetic performances. Born in 1984, Alexander Gavrylyuk began his piano studies at the age of seven and gave his first concerto performance when he was nine years old. He went on to win First prize and Gold Medal at the 1999 Horowitz International Piano Competition, First Prize at the Hamamatsu International Piano Competition in Japan in 2000. In 2005, he took both the coveted Gold Medal as well as the award for Best Performance of a Classical Concerto at the internationally renowned Arthur Rubinstein International Piano Masters Competition.
Gavrylyuk is increasingly in demand by orchestras and conductors for his noble and compelling interpretations and has appeared with the New York, Los Angeles, Czech, Israel, Warsaw, Moscow and Rotterdam Philharmonic Orchestras as well as the Royal Scottish National and the Orchestre Philharmonique du Luxembourg, NHK Symphony, Bournemouth Symphony, Cincinnati Symphony, Hallé, Tokyo Symphony, Orchestre National de Lille, and the Stuttgarter Philharmoniker. He has collaborated with conductors such as Vladimir Ashkenazy, Herbert Blomstedt, Andrey Boreyko, Thomas Dausgaard, Valery Gergiev, Neeme Järvi, Vladimir Jurowski, Kirill Karabits, Louis Langrée, Alexander Lazarev, Sebastian Lang-Lessing, Vassily Petrenko, Rafael Payare, Yuri Simonov, Vladimir Spivakov, Markus Stenz and Osmo Vänska.
Highlights of the 2018-19 season include debuts with the Philharmonia, Chicago Symphony, Wiener Symphoniker, and City of Birmingham Symphony Orchestra. Other highlights include a return to the Wigmore Hall, as well as return visits to the Hallé, Concertgebouworkest, Sydney Symphony and the Royal Scottish National Orchestra. Gavrylyuk will also tour Europe, Asia & North America in solo recital and appear in duo partnership with violinist Janine Jansen in Berlin, Stockholm, Munich, Zurich, London, Amsterdam and Vienna.
Gavrylyuk regularly visits Japan and Asia, performing with orchestras such as NHK Symphony and Seoul Philharmonic as well as recital tours, often playing to sell-out audiences in Suntory Hall and Tokyo Opera City. He returns to Russia on a regular basis and has performed with the Russian National Philharmonic and the Svetlanov Russian State Symphony Orchestra, as well as recitals at the Great Hall of Moscow Conservatory and at the Kremlin.
Gavrylyuk has appeared at many of the world's foremost festivals, including the Hollywood Bowl, Bravo Vail Colorado, Mostly Mozart, the Ruhr Festival, the Kissinger Sommer International Music Festival, the Gergiev Festival in Rotterdam, as well as the BBC Proms at the Royal Albert Hall with the BBC Scottish Symphony, his debut performance making it onto the BBC Proms 2017 "Editor's Top 10 Picks" list.
Alexander is renowned for his solo recital programmes and performs regularly at numerous prestigious venues worldwide including his recent International Piano Series debut in London, Concertgebouw Master Pianists Series, Wigmore Hall, Great Hall of Moscow Conservatory, Cologne Philharmonie, Warsaw Philharmonic Hall, Vancouver, San Francisco, Tokyo City Concert Hall, Sydney Recital Hall & Melbourne Recital Centre.
At the age of 13, Alexander moved to Sydney where he lived until 2006. He has performed with all the main Australian orchestras including Melbourne and Sydney Symphonies, returning each year for concerts and recitals. In 2009 he made an acclaimed recording of the complete Prokofiev Concerti with Vladimir Ashkenazy and the Sydney Symphony which was recorded live at the Sydney Opera House. In addition to the Prokofiev cycle, he has made several recordings including recital discs of works by Rachmaninov, Schumann, Scriabin, Mussorgsky and Prokofiev. His most recent recording, a recital disc featuring Brahms Paganini Variations and works by Liszt has been widely praised.
Alexander is Artist in Residence at Chautauqua Institution where he leads the piano program as an artistic advisor. He supports a number of charities including Theme and Variations Young Pianist Trust which aims to provide support and encouragement to young, aspiring Australian pianists as well as Opportunity Cambodia, which has built a residential educational facility for Cambodian children.
Alexander is a Steinway Artist and more information is available on his website www.alexandergavrylyuk.com and public page 'Alexander Gavrylyuk Piano News".
For the most up-to-date biography, please contact us. This biography should not be edited without permission from Askonas Holt.
TS / July 2018
Movies
Movies
Alexander Gavrylyuk - Prokofiev Piano Concerto no 3
Alexander Gavrylyuk - (Sergei Rachmaninoff/Zoltán Kocsis)/ Vocalise Op. 34 Nr. 14
Alexander Gavrylyuk - (Mendelssohn/Liszt/Horowitz)/ Wedding March