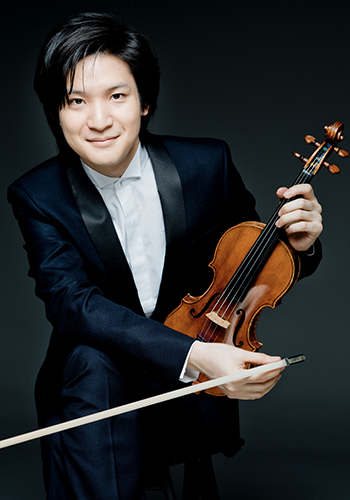 ©Marco Borggreve
Profile
Profile
Tatsuki Narita was born in 1992. He began his violin studies in Sapporo at the age of three. In 2010, Narita was selected as a scholarship student of the Rohm Music Foundation.
In 2010, he won 2nd Prize in the Concours International Marguerite-Long-Jacques-Thibaud. In 2012, he won 2nd Prize in the Concours Reine Elisabeth en Belgique, and in 2013 he was awarded 2nd Prize in the Sendai International Music Competition.
Tatsuki Narita has performed with many orchestras and conductors, including Petr Altrichter, Augustin Dumay, and Pietari Inkinen.
Narita collaborates frequently with contemporary classical composers. He commissioned the work "CHASM for Violin and Piano" from the contemporary classical composer Kenji Sakai; and at the Suntory Foundation for Arts Summer Festival he performed Sakai's violin concerto "On a G String," which earned the Akutagawa Award for Composition.
In November 2017, Narita gave the world premiere of Toshi Ichiyanagi's composition "Double Concerto for Violin and Cello and Orchestra" (with Tsuyoshi Tsutsumi on cello).
Tatsuki Narita has studied with Masako Sawada, Eiko Ichikawa, Hamao Fujiwara, Jean-Jacques Kantorow, Svetlin Roussev, Florin Szigeti, and Ayako Tanaka.
His CD releases include Tatsuki Narita Debut – Saint-Saens, Franck, Faure, Paganini (Pf: Théo Fouchenneret).
In August 2018, Narita performed with Yeol-Eum Son, Svetlin Roussev and others at the 15th PyeongChang Music Festival & School held in Korea. He also appeared at Yuri Bashmet International Music Festival in Minsk.
Tatsuki Narita plays the 1711 "Tartini" from the golden age of Stradivarius, on loan from the Munetsugu Collection.
Movies
Movies
Tatsuki Narita & Mami Hagiwara Encores
Tatsuki Narita | Paganini | Violin Concerto No.1 | Cadenza | Queen Elisabeth Competition | 2012
Tatsuki Narita Violin Recital
YouTube channel