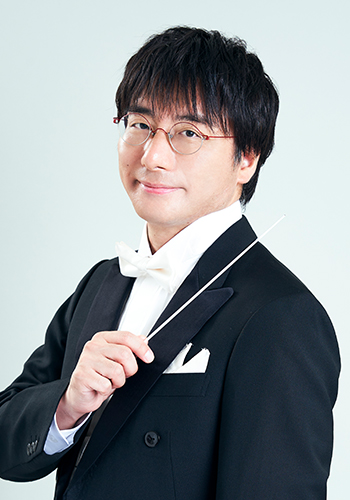 ©︎Ayane Shindo
Profile
Profile
Born in 1974, Takeshi Ooi began to study conducting with Yoko Matsuo at age 17. He graduated from the conducting course of Tokyo University of Arts and completed the graduate program of the same school in 1999. He studied with Hiroshi Wakasugi and Hiroyuki Iwaki. He received Ataka Prize in 1996. He also studied with James Levine, Kurt Masur, Gianluigi Gelmetti, and Isaac Karabtchevsky at summer masterclasses in Switzerland and Italy.
Takeshi Ooi was an assistant conductor of the Sendai Philharmonic Orchestra from 2000 to 2001. He studied at the Czech Philharmonic Orchestra in Prague from 2007 to 2009 and won the 2nd prize at the International Competition for Orchestra Conductors Antonio Pedrotti in 2008. He was a chief conductor of the New Philharmony Orchestra Chiba from 2009 to March 2016, and contributed to the orchestra's development during the tenure. At present, he is a conductor of Yamagata Symphony Orchestra and Tokyo Kosei Wind Orchestra. He has conducted almost all major Japanese orchestras earning high praise.
Ooi already served as an assistant conductor for opera performances of the New National Theatre Tokyo and Tokyo Nikikai when he was still studying. He made his operatic debut with Pelléas et Mélisande (Debussy) in 2002, and ever since conducted many operas and the Bernstein's musical West Side Story as well.
In the ballet field, he has frequently conducted performances of the National Ballet of Japan including Romeo and Juliet (Prokofiev), and also conducted NHK Ballet Festival where Japan's leading ballet companies and dancers gathered. He is active in wide-ranging performing arts including collaboration with Yoko Komatsubara Spanish Dance Company, and classical Japanese dancers such as Mansai Nomura, Jusuke Hanayagi, and Yachiyo Inoue.
Ooi is a visiting professor of SHOBI College of Music.
(June 2020)
Movies
Movies
速報!東京佼成ウインドオーケストラ 2月公演直前リハーサル