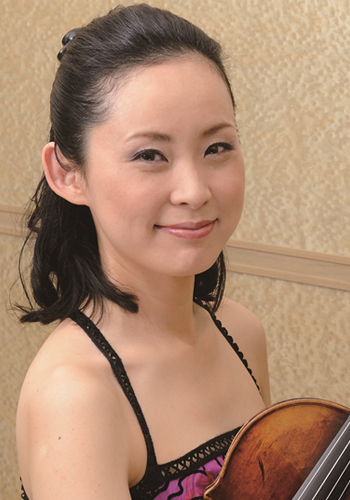 ©Oji Hall / Fumiaki Fujimoto
Profile
Profile
Naoko Shimizu gained high recognition for placing first in the 1997 Munich International Music Competition Viola Division, becoming the first person in 21 years to win this prize since Yuri Bashmet. She has also won the highest prize in the 1996 Geneva International Music Competition as well as many other prizes and competitions.
Shimizu studied violin under Etsuko Hirose and Toshiya Eto at the Toho Gakuen College of Music, and viola under Nobuo Okada. In 1993, she transferred her major to viola, and completed her studies in the research division. From 1994, she attended the Academy of Music in Detmold Germany studying under Nobuko Imai.
In 1994, she participated in the Tanglewood Music Festival, winning the CD Jackson Award. From 1995 to 1998, she participated in the Marlboro Music Festival. In 1996, she appeared with the Tokyo Philharmonic Symphony Orchestra in the Orchard Hall's "Great Artists of the Future Concert". She has also performed repeatedly with many domestic and foreign orchestras.
In 1999, she gave debut recitals in New York and Washington DC, making her concerto debut in New York in 2000. She also performs widely in Europe to the present day.  Since February of 2001, she has expanded her career serving as the principal violist of the Berlin Philharmonic Orchestra.
In Japan, while active as a recitalist and chamber musician, she has also performed as a soloist with many Japanese orchestras including Tokyo Philharmonic Orchestra, Yomiuri Nippon Symphony Orchestra, Japan Philharmonic Orchestra, Sendai Philharmonic Orchestra, Nagoya Philharmonic Orchestra, Kanagawa Philharmonic Orchestra, Kioi Symphonietta, and on the Japan tour of Toyota Master Players, all well received.
(June 2020)
Movies
Movies
Mendelssohn: String Quintet No. 2 / Tetzlaff · Members of the Berliner Philharmoniker