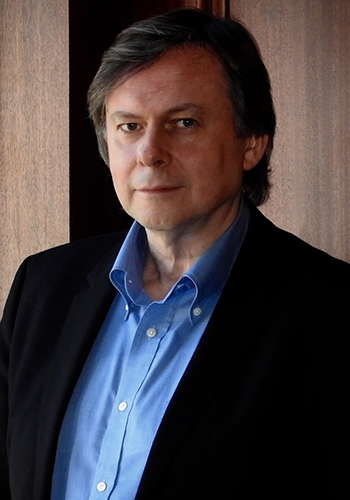 ©Julia Jablonska
Profile
Profile
Krzysztof Jablonski is Laureate of the F. Chopin International Piano Competition in Warsaw in 1985 as well as numerous top prizes at international piano competitions in Milan, Palm Beach, Monza, Dublin, New York, Calgary as well as Gold Medal at the A. Rubinstein International Piano Master Competition in Tel Aviv.
For almost 30 years Jablonski is active performing solo, chamber music as well as with orchestras on stages in Europe, Americas, Asia and Israel in prestigious concert halls, including appearances on the Master Concert Series at Berliner Philharmonie. Frequent guest of many orchestras, performed under baton of V. Gergiev, A. Boreyko, K. Penderecki, J. Semkow, J. Maksymiuk, F. Brueggen, W. Bothe, Y. Tezuka, T. Shimono, A. Wit, J. Krenz and with prominent ensembles such as Orchestra of the 18th Century, Berner Symphonie-Orchester, Radio-Sinfonieorchester Stuttgart des SWR, Duesseldorfer Symphoniker, Hamburger Symphoniker, Jenaer Philharmonie, Festival Orchestra of the Grand Teton Music Festival, Helsinki Philharmonic, Lahti Symphony Orchestra, Tokyo Philharmonic Orchestra, Kyushu Symphony Orchestra, Kirishima Festival Orchestra, National Philharmonic Orchestra in Warsaw, National Polish Radio Symphony Orchestra in Katowice. As chamber music recitalist he recently performed with Tsuyoshi Tsutsumi, Arto Noras, Konstanty Andrzej Kulka, Teng Li – to name just a few. He is a member of "Warsaw Piano Quintet" which was first founded by W. Szpilman in 1962.
Jablonski's rather romantic nature was shaping his music taste and interests over years. Beside most popular works Jablonski has in his repertoire, he also plays some less known compositions such as Concertos by F. Riess, H. Litolff, E. Dohnanyi. He was invited to perform for ballet, opera and theatre spectacles as well as for spectacular, multidiscipline projects with multimedia presentations and lights such as Scriabin's "Promethee" with Duesseldorfer Symphoniker, Ballet "Fortepianissimo" choreographed by Lorca Massine at the National Opera in Warsaw, original piano version of the Debussy's Pelleas et Melisande. He was invited to perform during opening of the Wiener Opernball in Vienna together with the Vienna State Opera Ballet choreographed by Giorgio Madia. Jablonski also performed for crowd of thousands with Grant Park Orchestra and K. Urbanski at the Jay Pritzker Pavilion in Millennium Park in Chicago.
In February of 2013, Jablonski performed Tchaikovsky's Piano Concerto with Maestro Valery Gergiev and Helsinki Philharmonic Orchestra during fundraising event "Clean Baltic Sea Concert" in Helsinki. This performance was streamed live over Internet as well as recorded by Finnish Radio and TV.
He has made live recordings for radio and television in many countries as well as numerous CDs in Germany, Japan, and Poland.
Studied with Janina Butor and Prof. Andrzej Jasiński. Worked during master classes with R. Kerer and N. Magaloff. Graduated with honors in 1987 from the Academy of Music in Katowice, where he earned his Ph.D. in 1996. He is a Professor of The F. Chopin University of Music in Warsaw. In addition to academic responsibilities, he presents master classes, lectures and is a jury member at international piano competitions.