Ikuyo Nakamichi's CD [Complete Beethoven – 32 Piano Sonatas and 5 Piano Concertos] has been released!

A boxed set of all of Beethoven's 32 piano sonatas and 5 piano concertos, recorded by Ikuyo Nakamichi over the four-year period from 2003 to 2006, has been released to mark the 250th anniversary of Beethoven's birth. 
 In addition to the 32 piano sonatas—including Nos. 30-32, which won the 2007 Record Academy Award—the boxed set contains all 5 piano concertos, recorded in Germany in 2004 and 2006 with conductor Paavo Järvi (who is currently chief conductor of NHK Symphony Orchestra) and the Deutsche Kammerphilharmonie Bremen. It also features a DVD including 2 of the concertos and a 40-minute documentary with interviews of artists and staff as well as rehearsal scenes.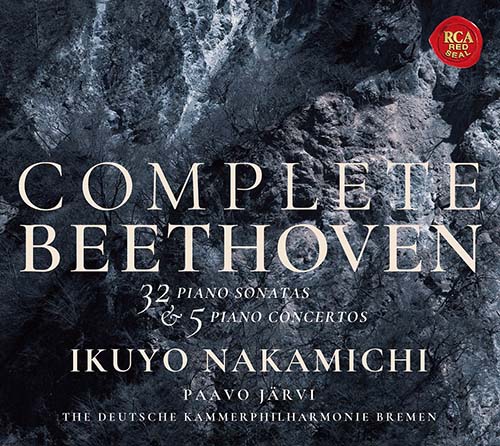 In the decade leading up to 2027—which will mark the 40th anniversary of her professional debut and the 200th anniversary of the death of Beethoven—Ikuyo Nakamichi is carrying out the project "Road to 2027", in which she performs works of Beethoven as a core and of his related composers in spring, and gives recital series to pursue pianism in Tokyo, Hamamatsu and other cities in autumn. At Yokohama Minatomirai Hall within the same project, she is starting the eight-concert series "Ikuyo Nakamichi – Complete Beethoven Piano Sonatas" from July 2020 to 2027.
At Hakuju Hall, she is carrying out "Ikuyo Nakamichi Beethoven, The Universe of Clavis," on the theme "Beethoven and great figures" till 2022.
Be sure to follow Ikuyo Nakamichi's evolving and deepening activities.
CD Information: Sony Music Japan International.